I never really had a dream job when I was young. I admired people who knew from an early age what they wanted to be/do when they grew up. I had hard time finding my calling. All I knew was that I had a tremendous longing to travel the world. Little did I know, that was the way to find my devotion.
The moment I got hooked
My diving journey started in 2015 in Gili Air. There, I enrolled in my Open Water Course with a group of friends. I was sold after that first experience and continued on to my Advanced Course right away. Immediately, I realized that I had found my 'thing' and just wanted to keep diving. I looked up to instructors working in Gili Air and dreamt that maybe one day that could be me.
My next stop on that trip was Komodo National Park. I got my first experience with some crazy current in Batu Bolong (one of the most famous dive sites here). There, I also had my first encounter with the gentle giants we call manta rays and I was amazed. Ever since Komodo has had a special spot in my heart.
A bump along the road… Inconsiderate instructors
When my trip was coming to an end I got really discouraged by one instructor who felt the need to tell me (I'd logged less than 30 dives at that point) that 'you're a good diver but maybe you shouldn't be a dive professional'. I was young and experiencing some anxiety and depression at the time so those words really stuck with me. I went back to Finland and didn't do any diving for a while.
After almost two years I ended up in Malta with my father who wanted to do his Open Water Diver Course. He was inspired since I had talked so much about diving to him (also, a big thanks to my dad for taking me diving again). Luckily, there I met a sweet instructor named Kadri who helped me get my confidence back as a diver. She saw my passion and even told me to come back for my Divemaster which meant a great deal for me.
Making moves and changing careers
That last dive trip inspired me to finally go for it. I spent some time traveling, getting more dives under my belt and also working as a waitress to save money for my next step. I arrived in Komodo for the third time earlier this year to pursue my dreams. Somehow, I stumbled on Azul's Instagram profile, checked their web page and just knew I had found the perfect place to finally do my Divemaster training. I walked into the shop and luckily they had a spot for me since I didn't contact them in advanced. From the get-go, I felt at home. Divemaster training with Aitor, Sergio and Sarah were amazing. They are patient teachers, each with their own style, and just wonderful human beings (really not saying this because they're my bosses now 😂).
After finishing my Divemaster Course I jumped straight into the Scuba Instructor Development Course, with encouragement from the people around me. Aitor was leading the course with the help of Sarah. The IDC was intense. I learned a lot even though sometimes it felt overwhelming to try to take in all of the information. I had some obstacles during the course including getting an infection in my leg, which kept me out the water for a while. However, with the help of everyone around me, I pushed through and now I'm a PADI Open Water Scuba Instructor.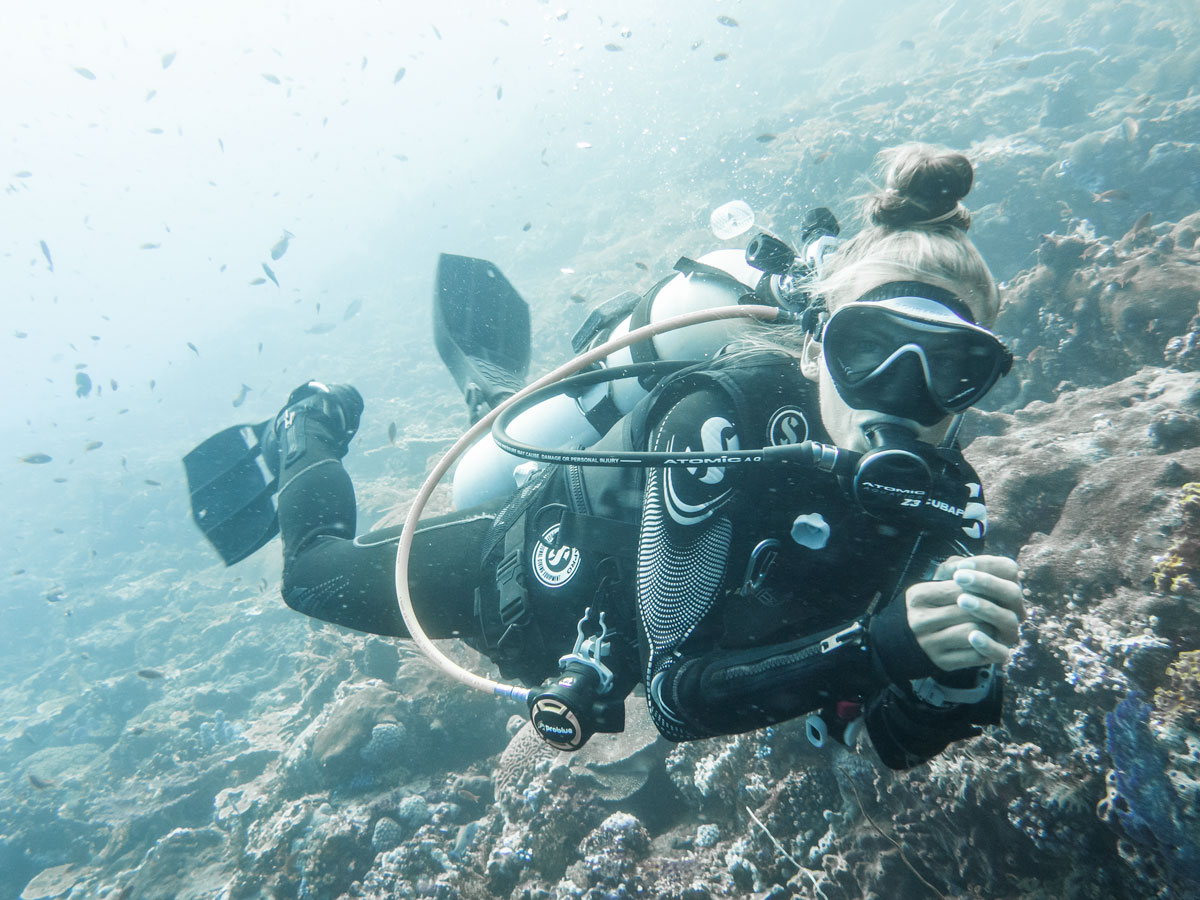 My goals working with Azul Unlimited
My experience with that discouraging instructor has molded me as a human being and as an instructor. I aim to be a kind and supportive scuba instructor rather than crush other's dreams. I hope to be patient and mindful with my students (and other people around me). My experience has taught me that each person has their own learning pace and my role as a teacher is to accommodate those needs. I strive to be positive and encouraging. Needless to say, this is going to be a learning process for me as I develop as an instructor and I'm excited to absorb it all!
I guess the point of this random blog is that sometimes it takes a little longer to find your passion or reach a goal, but it's worth it to keep chasing them. After all of it, here I am with my dream job and grateful for this opportunity. I look forward to meeting more of you, our Azul Unlimited family and can't wait to take you out to explore the Komodo National Park!
Laura Rasku
PADI OWSI #436843