New PADI course options in the time of COVID-19
Get private online tutoring before your course 🤓
You can 'meet' your instructor and get one-on-one chats via Zoom meetings while you go through the online theory for your course. Learn the practical application of the theory and discuss real life scenarios with a dive professional. As result, gain confidence outside of the water with the topics in your course before jumping in the water in the Komodo National Park.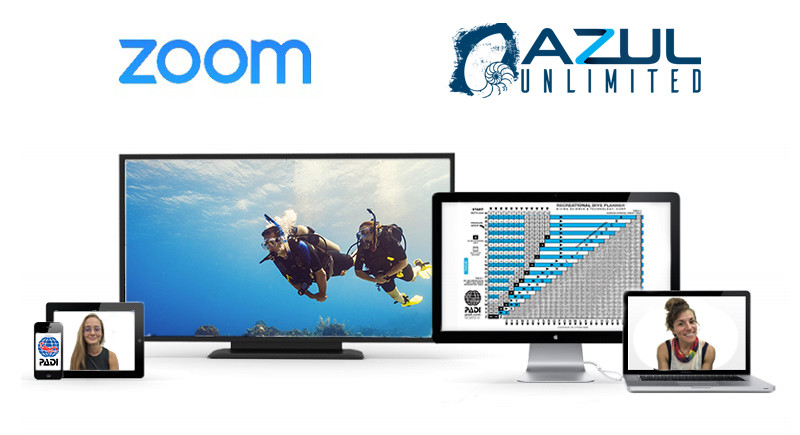 Your Advanced Open Water Course in Komodo National Park
The Next Level is at Your Fin Tips…
It doesn't matter if you have just finished your Open Water Course or you have many dives logged as an open water diver, the PADI Advanced Open Water certification is a perfect next step. This course will help you improve your skills as a diver as well as give you experience in brand new conditions, all supervised by your PADI Instructor. You will gain confidence in your abilities as you go through each Adventure Dive. 
Before we go any further, let's talk about course requirements. The minimum age for the course is 12 (ages 12-14 will be able to receive the Advanced Junior Open Water Diver certification). You must be certified as a PADI Open Water Diver (or equivalent from other organization) and be in good physical condition.
Practice Leads to Mastery…
The PADI Advanced Open Water course is designed to put practice first, which means we want to get you diving as soon as possible. Your dive instructor will help you pick 5 different adventure dives most appropriate for diving in the Komodo National Park. Two dives that you must do to complete the course are the Deep Adventure Dive (maximum 30 meters) and the Underwater Navigation Adventure Dive. There are many other Adventure Dives available for the other 3 dives of the course, including Drift Diving, Peak Performance Buoyancy, Nitrox, as well as a special offering just from us at Azul Unlimited: Sidemount.
Course Philosophy and Structure
As stated before, the course is mostly about the diving, but you will also be getting some much needed theory lessons to fully understand each Adventure Dive. Our program combines the course materials online (E-learning) along with classroom sessions and thorough briefings with your PADI Instructor for each specific Adventure Dive. All of this extra time will allow you to feel confident in the skills that you will perform during each dive and prepare you to adapt to each new environment. Your Advanced course will take a total of two days and during these two days, you will be amazed at your improvement as a scuba diver.
Use Your Adventure Dives as Explorations
If you don't have enough time to finish the course or part of your dive team is not quite 12 years old yet, don't worry! There are plenty of options to gain more experience and get certified as an Adventure Diver in 2-3 different categories and then continue the course at your leisure. Please contact us with details of your goals for your trip and we will work out a perfect plan for you.
Other options for those of you who experience an Adventure Dive that is particularly interesting to you, is to continue growing within that skill as part of a PADI Specialty course. Each Adventure Dive counts as the first dive to the correlating specialty course so it's a great way to get an introduction before committing to a full course. 
Prices:
| Course Options | Price in Indonesian Rupiah |
| --- | --- |
| Digital Materials + 6 dives | 5,650,000 |
| Digital Materials Touch + 6 dives | 6,000,000 |
| Komodo National Park Entrance Fees | Price in IDR |
| --- | --- |
| Mon-Sat | 275,000 |
| Sun & Holidays | 350,000 |
| Komodo Dragon Tour Fees | 115,000 |
Duration: 2 Days

Dives: 5 dives + 1 fun dive

Maximum depth after certification: 30 meters
Minimum age: 12 years old

Be certified as a PADI Open Water Diver or equivalent

Must be healthy and feel fit for diving

Complete this Medical form and if required, visit a doctor before going diving
Included in the Price:
Academic materials online or digital course manual copy
Logbook & certification fees
6 Dives in the Komodo National Park
Full set of dive equipment
Diving computer
Breakfast, lunch & snacks
Unlimited coffee, tea & water
Diving Insurance during your course
Azul Unlimited T-shirt
Not included in the price:
Included in the Price:
Academic materials online or digital course manual copy
Logbook & certification fees
6 Dives in the Komodo National Park
Full set of dive equipment
Diving computer
Breakfast, lunch & snacks
Unlimited coffee, tea & water
Diving Insurance during your course
Azul Unlimited T-shirt
Not included in the price: