New course options post COVID-19
Check out the details below
Your PADI Open Water Course in Komodo
This is the beginning of it all… You've found your PADI scuba course.
Your first breath underwater during your PADI Open Water Course is a moment you will never forget.
The PADI Open Water Course teaches you the necessary skills to be able to plan your own dives with a buddy and dive all over the world… for life. That's right, the certification never expires! Completing the Open Water Course with Azul Unlimited means that you will get your first experience underwater in one of the most beautiful places on the planet, the Komodo National Park.
There are only a few requirements to be able to complete the course. You must be at least 10 years old, be able to float and swim with relative ease as well as being physically healthy.
The PADI Open Water Course is split up into

three different parts:
Knowledge Development of Dive Theory
There are a couple of ways of completing your PADI Scuba Course classroom work. Our favorite option is the online course because you will be able to finish your theory ahead of time which means less time spent studying on your vacation! It is also the most environmentally friendly option since all of your course work will be done from your laptop or tablet.
This part of the course can also be done in person with your PADI Instructor once you arrive to Labuan Bajo.
Dive theory will be covered via videos, book work, knowledge reviews, quizzes and a final exam. All of this will prepare you to understand and practice the fundamentals for your future in scuba diving.
Get private online tutoring before your course!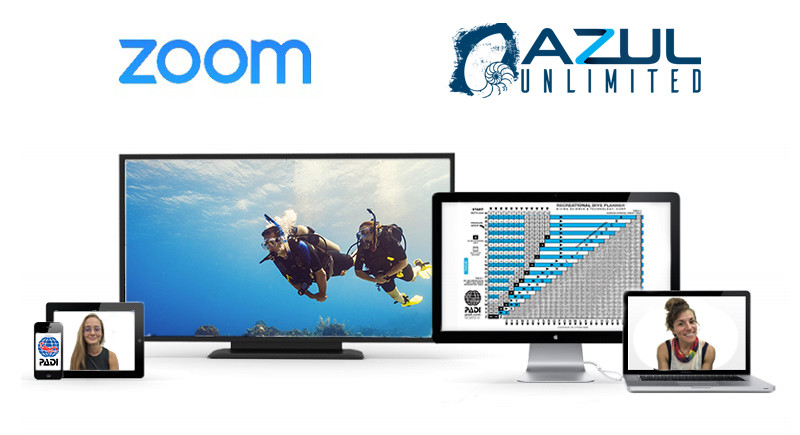 Learn from the comfort of your home
Quarantine has made Zoom a wildly useful app for all kinds of virtual gatherings and it has made its way into the scuba industry.
While you go through the online theory for your course, you can 'meet' your instructor and get one-on-one tutoring via Zoom meetings. Although the concepts of any recreational course are not super complicated, the information makes a lot more sense when someone helps you to apply it to real life as you are learning.
Become a confident diver before even getting into the water.
The great thing about doing theory in this way is that you can spread your knowledge development over several weeks and actually absorb the information you are supposed to learn. Too often these courses are rushed based on flight schedules and dive shop logistics. This means that people come out of courses having 'finished' the course, but may not be able to recall some of the finer points of the theory.
You have a year to finish the course
Once you start working through the theory, you have a full calendar year to complete the confined water skill practice and open water dives. This means that you have plenty of time to wait out whatever safety quarantines still await all of us around the world before shopping for flights.
You will receive and get familiar with your dive equipment before going into the water with your instructor to practice skills in a safe, controlled environment. During these dives, you will learn how to properly use your equipment, control your buoyancy, and the correct execution of safety procedures. This portion of the course is usually done in one afternoon, but can be split among two days depending on dive shop logistics. 
This is the good stuff. As part of your Open Water Course with Azul Unlimited, you will get to complete 5 dives in the amazing Komodo National Park which is known worldwide for its great biodiversity as part of the Coral Triangle. During your dives, you will complete some of the skills that you learned in confined water. This will be your chance to show that you are ready to explore the subaquatic world! The dives will be part evaluation of the skills previously learned and part practicing new skills like compass navigation, dive computer use and of course, exploring the beautiful reefs of Komodo.
| Course Options | Price in Indonesian Rupiah |
| --- | --- |
| Digital Materials + 5 dives | 6,200,000 |
| Digital Materials Touch + 5 dives | 6,800,000 |
| Komodo National Park Entrance Fees | Price in IDR |
| --- | --- |
| Mon-Sat | 275,000 |
| Sun & Holidays | 350,000 |
| Komodo Dragon Tour Fees | 115,000 |
Duration: 4 days. Don't have enough time? Check out the PADI Scuba Diver certification
Dives: 5
Maximum depth after certification: 18 meters
Minimum age: 10 years old. Not old enough? Ask about the PADI Bubblemaker Program

Must be healthy and able to float/swim with relative ease

Complete

this Medical form

and if required, visit a doctor before going diving
Academic materials online or digital course manual copy

Logbook & certification fees

5 Dives in the Komodo National Park

Full set of dive equipment

Diving computer

Breakfast, lunch & snacks

Unlimited coffee, tea & water

Diving Insurance during your course

Azul Unlimited T-shirt
Not included in the price:
Academic materials online or digital course manual copy

Logbook & Certification fees

5 Dives in the Komodo National Park

Full set of dive equipment

Diving computer

Breakfast, lunch & snacks

Unlimited coffee, tea & water

Diving Insurance during your course

Azul Unlimited T-shirt
Not included in the price: