New PADI course options in the time of COVID-19
Get private online tutoring before your course 🤓
You can 'meet' your instructor and get one-on-one chats via Zoom meetings while you go through the online theory for your course. Learn the practical application of the theory and discuss real life scenarios with a dive professional. As result, gain confidence outside of the water with the topics in your course before jumping in the water in the Komodo National Park.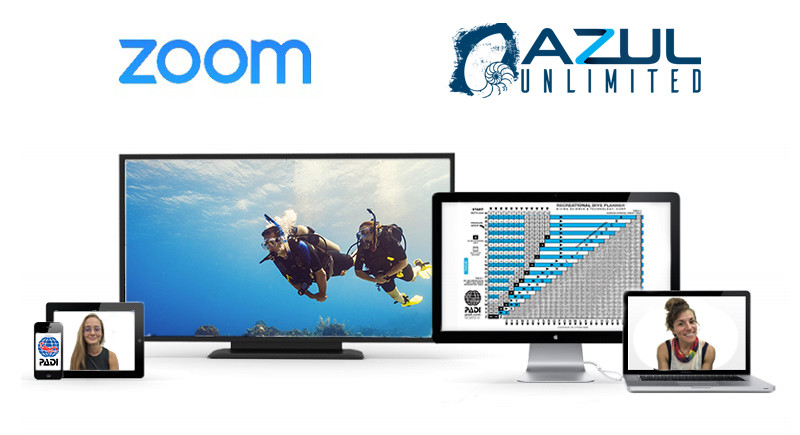 Your Divemaster course in Komodo
The Komodo National Park is the best Divemaster training playground in the world.
You've been around dive professionals during your courses and during vacations while fun diving. You have gotten to know your Divemasters and Instructors. You've asked them questions. You know their lifestyle intrigues you. You start to think that you would like to do the same thing one day…
The Divemaster Course is the first step on the path to making your hobby a real, paid profession. It is one of the few things in life that can literally change the trajectory of your career and it can be completed in 6 incredible weeks. If you are ready to take this career change seriously, you will be able to pair the Divemaster Certification with your passport and travel the world, working as you go.
Conditions and Critters You'll Encounter While Diving in Komodo
Your dive training in Komodo will prepare you for just about every possible diving scenario. Not only is diving in Komodo considered some of the best in the world, but we also have a wide range of conditions from which to learn within the park. Here you'll find some of the most beautiful coral reefs in the world and in fact, this area is part of the famous Coral Triangle. The Komodo National Park has some seriously strong currents as well, which will give you a whole other set of skills as a professional.
We are also very lucky to have extensive biodiversity in the Komodo National Park. This means you will see (and learn about) a ton of different creatures ranging from sharks and mantas down to flamboyant cuttlefish and orangutan crab. 
Truly hone in your diving skills
We train dive professionals who really know about the environment. Any program in the world will teach you the basic skills to be a Divemaster, but the important part of our Divemaster Course is to make you knowledgeable on all aspects of diving. This means you will understand the techniques and science about diving in currents. You will understand and be able to talk about the critters that you see on your dives. You will be able to handle the normal problems that clients have in regard to diving needs, safety situations, and equipment repair. 
THE MOST Important Question to Ask Before Signing on to Your Divemaster Course
Who will be my mentor? 
The reason this question is so essential is because any instructor (that means even those who have only just passed their instructor exam) are technically certified to teach the course. You need a mentor who has experience teaching in a wide variety of diving situations AND is passionate about helping you become a professional.
Your mentor will be one of our senior instructors, all of which have many years of experience teaching the Divemaster course. Although you will have your assigned mentor, you will be working alongside the entire Azul Unlimited team to learn all aspects of the dive industry from guiding and equipment repair to office work and marketing.
If a party place is what you're looking for, we are not the dive shop for you.
Unfortunately, in the dive industry, it is common practice to sell the party life as a way to get students into the Divemaster Course. Here at Azul Unlimited, we take this training very seriously and want our students to do the same. However, don't think that we don't have a good time while diving and teaching the course! We are just passionate about encouraging responsible dive behavior.
Get the Experience You Need in Order to be Successful
Our Divemaster course will not only prepare you for taking on your first job at a dive shop but also prepare you for moving on through your scuba instructor course with us if that is the path you want to follow.
Check out what our students are saying about the course:
It was a life-changing opportunity that connected me with the most inspiring people. As an individual, I feel more confident in what I am doing and want to continue progressing towards instructor later this year.
Professional, knowledgeable and fun are the words I would use to sum up my experience with Azul Unlimited. Not only is the team excellent and enthusiastic about teaching, but their passion for diving is utterly infectious.
Training with Azul Unlimited was a breath of fresh air. The entire team is fluent in English which helped all the theory become easily absorbed. I was fully prepared at all stages and learned to feel comfortable under the water. If I was to go on this dive journey again I would 100% go back to Azul Unlimited and learn from them once more. Fun, intelligent, professional team!
The difference is in the details
If you are seriously considering coming to Indonesia for your Divemaster Course with Azul Unlimited, check out our detailed course description packet. Here, you'll find the specifics about coming to Labuan Bajo, living here during your course, what to expect during your training and the price breakdown. 
Let us know what your goals and questions are for this course and we will help you get organized for your time trip out to join us.
 Don't waste any more time dreaming about whether this lifestyle could be a reality for you. We haven't met a single person who regrets the Divemaster training experience. See you soon!
Price: 22,000,000 IDR plus materials & certification fees

Duration: 6-8 weeks

Dives: unlimited during the course

Maximum depth during the course: 30 meters
Minimum age: 18 years old

Minimum number of dives before starting: 40

Be certified as a Rescue Diver with current EFR certification

Must be healthy and feel fit for diving

Complete this Medical form and MUST visit a doctor before going diving
Included in the Price:
Unlimited diving in the Komodo National Park during the course
Breakfast, lunch & snacks on dive days
Azul Unlimited T-shirt
Not included in the price:
Accommodation

Rental equipment
Certification fees

Tips
Included in the Price:
Unlimited diving in the Komodo National Park during the course
Breakfast, lunch & snacks on dive days
Azul Unlimited T-shirt
Not included in the price:
Accommodation

Rental equipment
Certification fees

Tips