There are few things that can drastically change your world view. If you learn to scuba dive, you will get to experience one of them. 
Caution! Getting scuba certified may make you completely change the way you travel. You will want to search out all the wonderful dive spots on the planet and then spend all your money because it's just that amazing. You've been warned 🤣
So why should you learn to scuba dive?
1.Get exposed to an entirely new (and huge) part of the planet
It really is like visiting outer space. Underwater, you'll find strange creatures you couldn't even imagine before. Some things will seem as if to defy the laws of nature. It's possible to find the most spectacular beings as well as others which are so ugly, they fascinate you.
Bonus points: Diving is also one of the few instances when you can actually feel as if you are flying. Zero gravity is a super special sensation. What's even better? If other adventure sports are hard on your joints, you can usually find relief in learning to scuba dive. 
2. Connect with nature and your breath
Scuba diving is often equated to an active form of mindfulness practice. When you are underwater, you can't talk to anyone (and no one can talk to you!) so you are left with your breath and the sensations of the dive. You notice the vibrant colors, the sound of your breath, the feeling of the water on your skin… By keeping the mind fully immersed in what you are doing during the dive, you find a level of relaxation that can be hard to connect with on land.
3. Get away from the 'normal' tourist options
Travel is becoming more and more common. People are getting away from home and experiencing the world. Not everyone is willing to dive underwater. Therefore, you can get away from the standard nonsense of booze cruises or crowded walking tours. However, choose your dive operation wisely! Many places are no more than bars/party places which also happen to take people diving. See our checklist of how to choose a dive shop for your next vacation in this previous blog.
4. Do something adventurous and exciting
Although you can slow down and connect while learning to scuba dive, you can also sign up for some crazy adventures in the water. For example, Komodo National Park is known for some wild currents which make for fun, memorable dives. Currents can really make you feel the true power of the ocean, as well as get front row seats to some spectacular pelagic life (all the big beasts such as sharks and manta rays). You could also decide to explore lesser known areas like wrecks, technical diving, or cave diving (just to name a few!).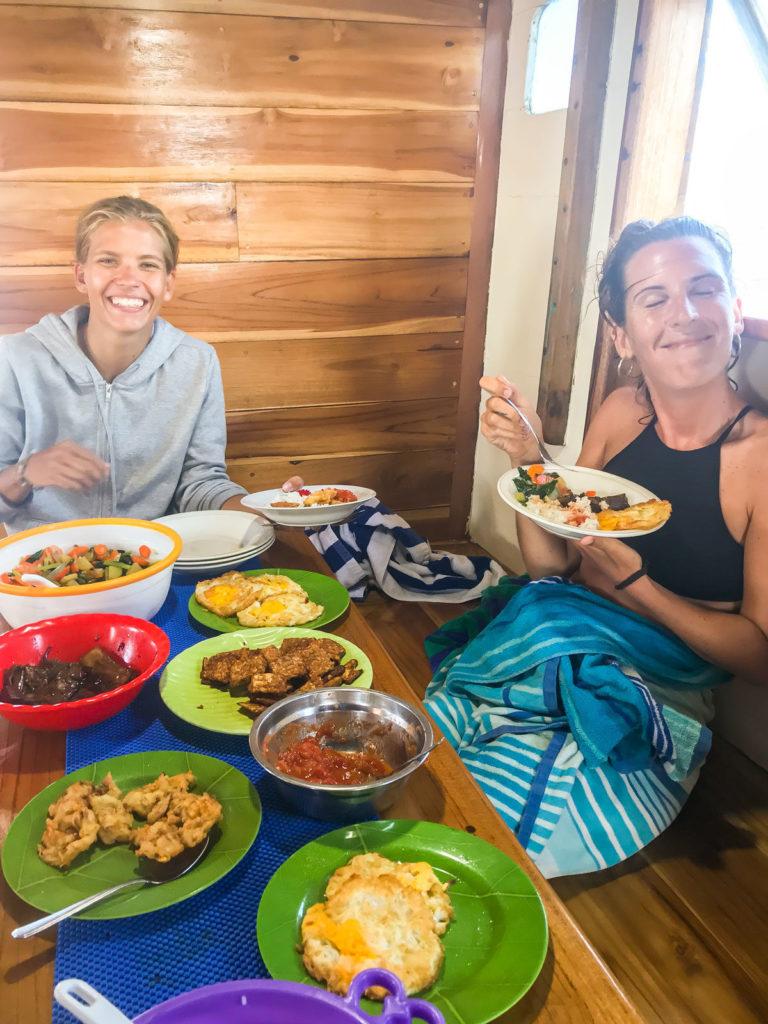 5. Maybe find a new perspective on your diet and lifestyle
Once you start to see the state of the ocean and the affect that modern living is having on ocean health, it's only natural that you start exploring new lifestyle options. Common changes are typically an aversion to all things plastic. Of course, it's hard to get rid of all plastic products in your life, but changing a few simple products and get you started. Check out this article on Azul Unlimited's favorite plastic free options.
Another typical change among scuba divers is giving up fish (as well as other animal products). It's normal to get so infatuated with the ocean that you want to make less of an impact on it. This could mean giving up unsustainable fish options. It could mean that you want nothing to do with consuming the creatures you love to see underwater and you give it up completely. Either way, you quickly become an advocate for responsible ocean relationships and by sharing what you are learning, it's possible to raise the awareness amongst the common public.
6. See it before it goes away
Speaking of sustainability, the ocean is suffering. Without going into any kind of politics, it is fact that the coral reefs are disappearing. When you learn to scuba dive, you get to see something that, horrifyingly, may not be here in the future. If you already have, or are inspired to build a passion for helping the environment, see this article about ocean conservation to find out how you can participate. 
Now the practical question: How do you learn to scuba dive?
The DSD Option
Discover Scuba Diving is a great program for getting you in the water and seeing if it's something you are interested in pursuing. It's only a one day or half day commitment where you learn a little bit of theory, a few skills and then go diving. The best part? If you are interested in the Open Water Course, the dive from the DSD can count towards your certification! Speak with a PADI professional to find out how.
The Open Water Course Option
This option is perfect for people who know they want to get in the water and stay in the water. It's only 3-4 days and you leave with a certification for life. During the Open Water Course, you will learn the skills necessary for fun diving and being a good dive buddy. With the Open Water certification, you will be able to dive all over the world, down to 18 meters!