You're interested in scuba diving in a beautiful location. You may be looking for your first scuba diving experience, your 'next level' certification or just a solid team to take you fun diving. You've done a little bit of googling on the area of choice (like maybe the Komodo National Park 😉) but there are a lot of scuba dive shop options. You don't really know what to do next to ensure an amazing vacation.
The best way to make a dive shop choice?
Recommendations from friends and family are always the most trusted way to go. They can give you first-hand knowledge on the entire dive operation. Also, since they know you, they'll be able to give you an honest opinion on whether you would vibe with the company or not. 
Although word of mouth is the most reliable option, a lot of divers do not have direct connections with people who have been in the area they are researching. 
So, where do we go from here?
Sorting through all the noise online
We live in the age of information. In seconds, you can get details on just about any subject in existence. Therefore, although it is great to do research on different scuba dive shops in the area to which you are heading, it can get a little overwhelming.
We already know that word of mouth is a great resource and this is why sites like TripAdvisor have been so wildly successful. One search can give you a snapshot of what kinds of experiences people are having with the scuba dive shop you are researching.
A word of warning: Remember, not everything on the internet is truthful
Although a lot of the reviews online are completely legit, there's still a lot of fraud out there. Use sites like TripAdvisor as a way to pare down your options and then move on to contact each scuba dive shop separately in order to make your final judgment.
Best practices for finding your scuba dive shop online:
Check out their website. Is it user friendly? Is it updated regularly? Can you find the information that you need?
Check their social media outlets. Are they interacting with their followers online? Do you get a good feeling by what they are sharing?
Message or email them. Are they quick to respond? Do they answer your questions and give you honest advice?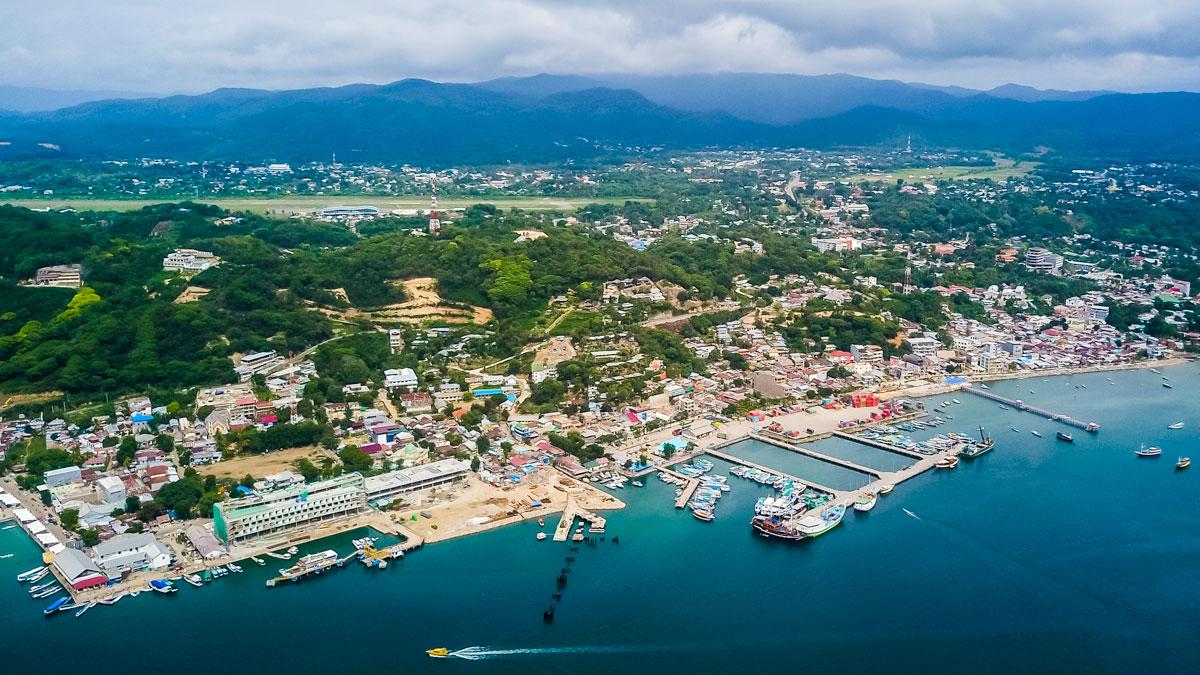 'Choosing upon arrival' is not always the best option
Here in Labuan Bajo, a lot of people just show up, walk around town and choose a scuba dive shop based on their interactions with the office staff. Although this can work for people, it's not the most reliable way to choose a dive operation. Why not? A lot of the times you are doing just that, speaking to office staff. Even if they are very well trained and know what they are talking about, you want to hear from the team or people who will actually be in the water with you. 
Another downfall to this 'walk-in' plan is when you choose to visit a place during high season. Around here, the summer months are very busy and if you wait until you arrive to book your dive spots, there is a good chance that the boat will be full.
That being said, if you have done your research and you are deciding between a couple of scuba dive shops, then visiting them in person is a great way to make that final choice. If you make contact before, you can usually arrange to meet your guide or instructor once you arrive. Then you can book based on the place where you felt the most comfortable and got the best answers to the following questions. 
Questions to ask each scuba dive shop
Who will be my guide/instructor? What is their experience here?
What are the expected conditions/where will we be going?
How are the dives/dive courses conducted?
What kind of shape is the boat (or other vehicle) in? What amenities are included?
What are your environmental practices?
May I see the equipment?
What are your safety procedures?
Why shopping for the lowest price is not a good idea.
Scuba diving is an expensive hobby. In some places the cost of the diving operation is not as high and you can go diving on a budget. However, if you are heading to a place that is world renowned or remote (like the Komodo National Park), you have to expect to pay more for the experience. Don't get us wrong, we love a good deal. However, when it comes to scuba diving, if you are looking for the companies who will offer you the biggest discount, you will be getting what you pay for.
The problem with shopping for the cheapest price is that there is a possibility that safety or standards are being sacrificed. Although this isn't always the case, when it comes to a sport like scuba diving, it just isn't worth the risk. You want to make sure that you are signing up to be guided and instructed by professionals. You should find out about their environmental practices and boat/vehicle condition. You also need to have access to properly working personal and safety equipment. When you choose to pay more, you have a much better chance that this will be the case.
See you in Komodo
I hope that these tips are helpful during your next scuba dive shop search! If you have any questions or are interested in diving with us here in Indonesia, just send us an email at [email protected]
Hope to dive with you soon!
Sarah Miller
IDC Staff #320212