Swimming in whale shark soup…
Dive adventures in Los Cabos
In this article, I'm covering the must-see spots of Los Cabos. You can do any of these trips on your own or join a future Azul Unlimited dive expedition.
Dive Ninja Expeditions in Cabo San Lucas, Mexico
I set out to run my first dive expedition as a guide. I chose Cabo San Lucas because I have wanted to dive Baja for many years, and I knew my friends at Dive Ninja Expeditions would take great care of my group.
Aitor and I have known the owner Jay Clue for many years, and now that Aitor is the shop manager, it was a no-brainer to book everything through them.
We started out with a dive day in the Cabo San Lucas marina.
Five minutes from the main harbor is a legit aquarium. The first time I hopped in the water, I was astounded by the volume of wildlife, particularly because this area is overrun by boats. It's probably the loudest marine park I've ever visited, but the fact that it's so close to shore makes it a super chill dive day.
There are pros and cons to basing your vacation out of Cabo San Lucas. It's a big city and popular cruise ship harbor, so there are loads of people and noise. As long as I stay away from the beat-bumping downtown area, it's not so bad, even while traveling in a van. But then again… I've done a lot of urban camping in my *almost* 2 years of van dwelling.
That being said, the great thing about being in the city is there's something for everyone. There are tons of different restaurants and bars plus, if you need something, like Dramamine for boat trips, it's easy to get your hands on it.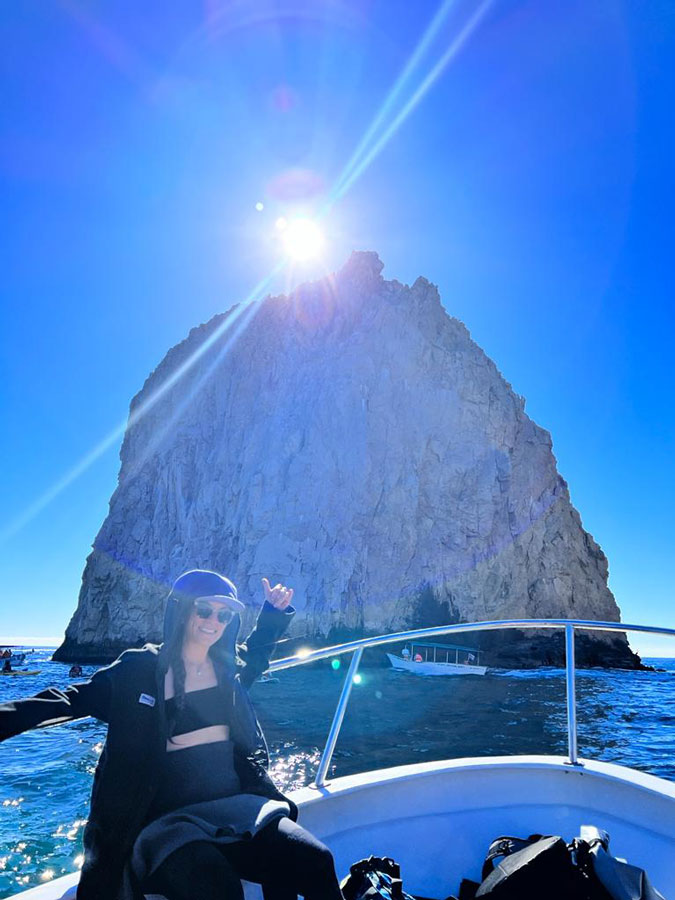 The Sea Lions of La Paz
La Paz is known for its friendly sea lion colony and whale shark tours. It's also a super chill spot to hang out, and if you're in a van, there are great nomad spots where I've met some of the best people on the road.
This is, by far, the most playful colony of sea lions I have ever encountered. These pups are used to playing with bubbles blown by divers and chewing on the fins of unsuspecting snorkelers.
The rookery is made up of males, females, and their pups. You can tell the difference between males and females by their body and head sizes. The boys can get as big as three times the size of the girls – up to 300kg.
During the mating season, males will monopolize females by defending territories such as pupping habitats and water access to keep other males at bay. Sea lions are polygamous, and males rarely stick around for pup rearing.
Sea lions have an interesting method for thermoregulation. By sticking their fins out of the water, the sun heats up their appendages, and that warmth gets circulated through their body. They remind me of Abby laying belly up in the sun, loving life.
I never get tired of playing with sea lions. You will giggle more than you ever have in the water by going on one of these tours.
Whale sharks in La Paz
The whale shark area is close to the city center and there is a beautiful camping spot nearby. I was unsure about doing a whale shark tour because my experience with this type of snorkel tour in Isla Mujeres was awful. I'm happy to report that La Paz is doing it right. There are strict regulations for how many boats can be in the area, and each boat has its designated time slot. Boat speed is regulated to avoid accidents with these giant fish, and there can only be one boat per whale shark.
Visibility in this area is generally not great, but because of the regulations, it's usually possible to get close to the whale sharks to see them in all their glory, especially if they stop and eat plankton for a while. When this happens, the whale shark goes vertical, filter feeding in one place. If you do get close, it's important to keep a few things in mind.
Don't ever touch the whale sharks
Don't get in front of them where they could run into you
Watch out for your surroundings. There may be more than one nearby
We got lucky with the last one. Our guide called the conditions Whale shark Soup. At one point, we had 16 individual whale sharks around the boat, most of them feeding because of the high plankton content in the water.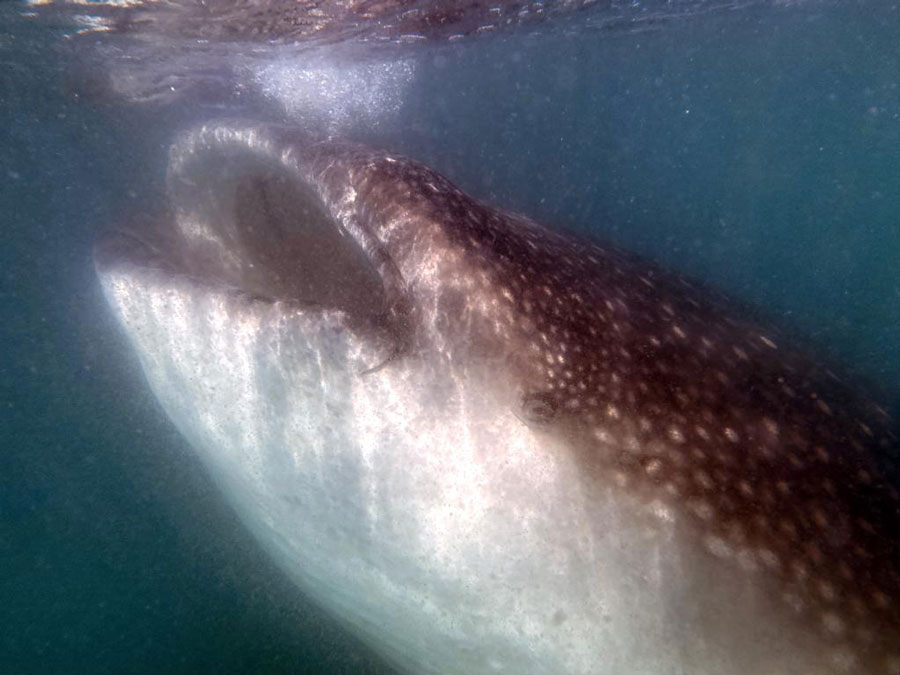 Scuba diving day trip to Cabo Pulmo
Dive sites in the Cabo Pulmo National Park work on the lottery system, so when we showed up for our dive day, we found out that we couldn't dive with the bull sharks. However, all of the dive sites in Cabo Pulmo are bustling with life, so it was still an excellent dive day. If you want to learn more about this area and see some sweet bull shark footage, check out EP03 of this series.
These day trips (to La Paz and Cabo Pulmo) are long days. You start early in the morning and return late afternoon or evening, depending on traffic. If you're doing this on your own, it's easiest to book everything through a dive operator like Dive Ninjas. You could book the transportation and tour separately to save a little money, but it'll take more time to make sure you get there on time and that everything is organized for the day.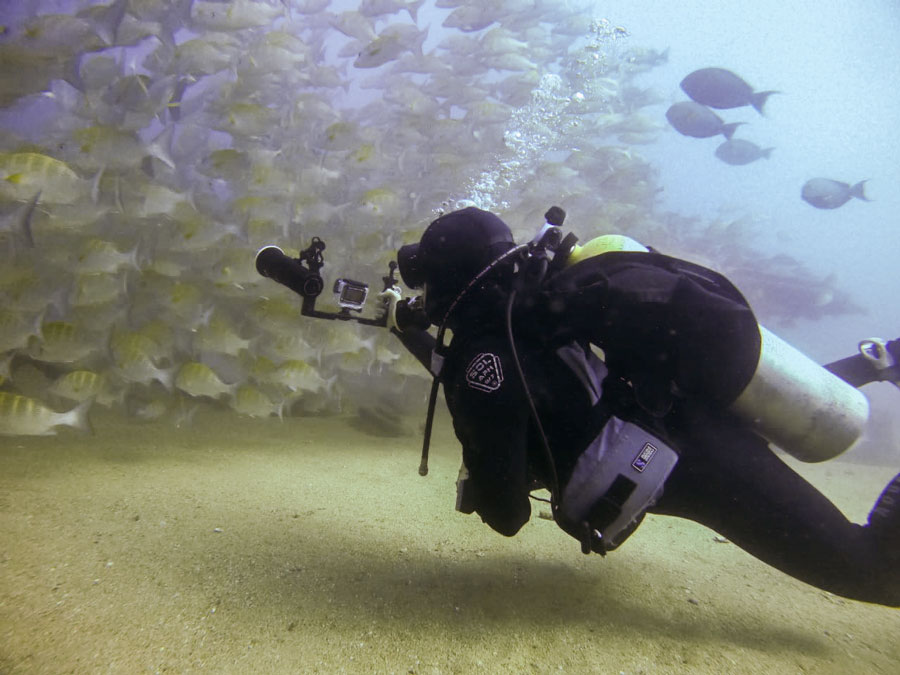 Our last day of diving…
The Corridor is a twenty-minute ride from the main harbor and is totally different dive experience. Here you'll find a sloping, bouldery bottom with healthy corals and less boat traffic. One of my favorite finds in this area is at the dive site, Whales Head. In the sand, you can get lucky and see eagle rays, but on this particular dive day, we got to see the cutest little bullseye electric ray. Besides its distinctive circular marking, its hopping movement will help you spot it from far away. As indicated in the name, this ray can produce an electric shock, but it's not powerful enough to be considered dangerous to humans. Regardless, keep your hands away from this cute little thing.
Night Diving in Cabo San Lucas
I'm usually not the first person to sign up for night dives. They tend to amp me up, and then I can't sleep very well… this dive was no different.
You can't see it very well here, but this is a baby frogfish, and we were freaking out about it. Their excellent camouflage usually makes them hard to find, but our Dive Ninja guide Fabien, honed in on this one as it was moving about the rock in the North Wall area of the Marine Park. Frogfish use their pectoral and pelvic fins to walk. They rarely swim, but when they do, they can use their caudal fin or jet propulsion to get around. Jet propulsion is interesting because they gulp water and force it through their gill openings, pushing them forward.
Whale Watching in Cabo San Lucas
The last day of any dive trip is usually a dry day so you can off-gas and safely take the plane home. That's why I booked a whale watching as our last adventure. The humpback whales visit the Cabo San Lucas area between December and March and can be seen on dedicated whale-watching tours or even on your surface interval between dives.
If you're going to do a tour, get on the earliest one you can. The later in the day you go, the more boats will be out on the water.
Future Azul Unlimited dive expeditions