Almost stabbed by marlins in the water in Baja California 😨
Crossing the border to Mexico
I have never seen the border wall in person. This first day in Mexico seemed like the perfect time to take a little sight-seeing detour to the famous murals at the ocean. Something that has always impressed me about Mexican culture is the joy and hope that oozes from everything. This border wall represents a lot of pain and difficulties and yet artists have created beauty and the word peace is proudly flown along with a little nod to the LGBTQIA community.
Flooding my GoPro and plans changing on the road
Bahia Concepcion was gorgeous, but… I broke my only underwater camera for the trip. This little mistake, along with a handful of other snafus, changed my trip plans, but that's part of the lessons of the road. Flexibility and adaptability are necessities to living this lifestyle.
Getting stuck in the sand for the first time
I am not a handyman. I won't even pretend. So, when I got stuck in the sand, in a wind storm, in the dark, by myself with one unknown camper on the beach, I got freaked out. Luckily, I had the tools to get me out and to a safe place for the night.
Meeting people on the road
I had a hard time during my first week in Baja. It was a lonely road with miles and miles of desert between each camp spot. Arriving to Baja Sur was a different experience. I fell right into a good group of people, specifically Domi and Sandra from Bicicleando por el Mundo. These are the kind of traveling friendships that I absolutely adore. They started their trip on bicycle in Alaska and rode down through Canada where they bought their van, Frankie, and are continuing to South America. This trip is supporting their nonprofit organization Una Cima Una Sonrisa which is a school for children in Africa. They are building classrooms, providing food, and supporting local professors to make education available to kids at the foot of Kilimanjaro. And not only that, they are some of the best people I've met on the road.
Domi and Sandra are the reason I got to join a trip to snorkel with the marlins in Bahia Magdalena (Mag Bay). Because none of the businesses responded to my inquiries before I arrived, I was under the impression that I could show up and join a trip. However, these trips tend to be organized months in advance and each boat is a private group. When I first arrived to try to join one, I was turned away.
Domi and Sandra found a group of fellow travelers and we put our own little private group together to see these impressive hunters.
Snorkeling with marlins
Marlins are the fastest fish in the ocean. From late October to around early December every year, marlins cruise around Bahia Magdalena for the sardine run. The marlins go after these bait balls, called carnaza in Spanish. Typically, they injure or stun their prey with a flash of their spear-like bill and then circle back to eat.
Captains look out for birds active at the surface of the water to locate the hunt.
Marlins are spectacular fish. Their spears are impressive and daunting while their blue stripes shine electric blue as they zip through the water. I'm pretty sure the stripes make them faster. I don't know the science, but it seems logical.
Now… I loved getting to see them and at first it all was so impressive, but then the bait balls got smart. They started using the people in the water as shelter from the hunt, which caused the marlins to get a little frisky. The second I realized the sardines were coming for me, I put my fins up and kicked away. One of our snorkel buddies got a big scare.
I only learned after the fact that people have been seriously injured and killed by marlins. They are excellent hunters and incredibly accurate, but we humans are like flies disturbing the flow of their hunt and we get in the way.
I'm not going to lie, I don't plan on doing a trip like this again. Although they are beautiful, it seems reckless to bring tourists to swim with them, at least in the way that we did it. And apparently my experience was very mild compared to what goes on at peak season. I've been told there can be 30+ people in the water at one time, which seems like an accident waiting to happen.
Any time I've been a guide with dangerous creatures or conditions, I've always kept my ratios down. No more than 2-4 people in the water with a guide at a time. My group was 7 in total and it felt chaotic.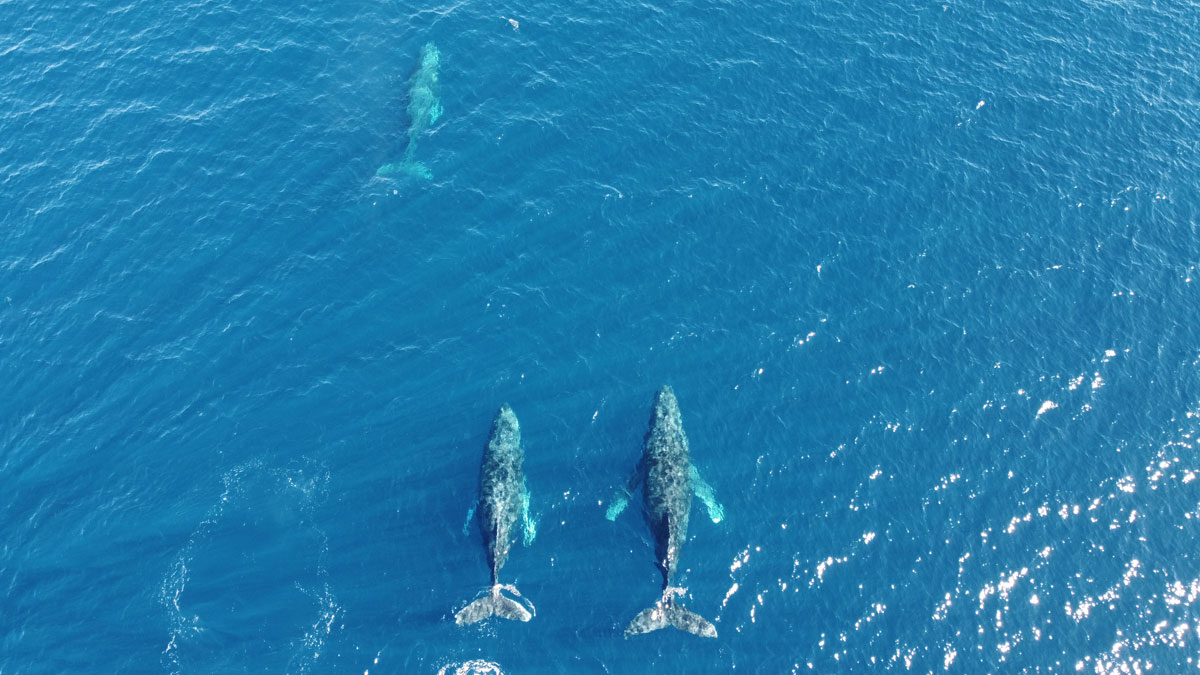 Humpback whale watching in Bahia Magdalena
We ended the trip with some humpback whale watching and Domi got some incredible views of these massive beauties with his drone. No one is allowed to get in the water with them, but one whale was swimming right by the boat, so we got a good look at her. They are absolutely spectacular, especially when you see them leap completely out of the water.
Bahia Magdalena is the same place where the grey whales start showing up in February, so I will definitely be back to learn more about them.
It was still a fun day out on the water with friends and this was the closest I had ever been to humpback whales, so that was really special.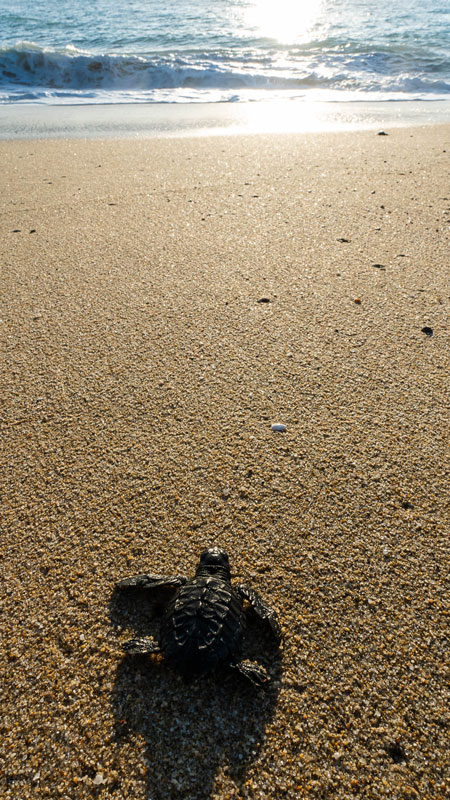 Todos Santos and baby turtles
Our next stop was Todos Santos for a lesson in turtle conservation. This is a sleepy town only an hour away from the bustling Cabo San Lucas and is well known for its hippy vibe and great food.
There are a few organizations that support the local turtle populations, which include the Leatherback (critically endangered), Black Turtle (endangered), and Olive Ridley (vulnerable).
They collect the eggs from nests around the Todos Santos area, incubate them in a safe place away from predators, and then release them to the wild.
Along with predators, plastic pollution and climate change are affecting these perfect little babies. Do your part by supporting positive climate policy solutions in your country and organizations local or international that are doing the groundwork to create change in our world.
New plans for diving around Baja California
Over the next few months, I will be sharing about diving around Baja, and doing some collaborations with the talented scuba instructors I meet along the way. Subscribe to tag along and check out Patreon for extras from me!
Baja Dive Expedition, January 2023
There is still one spot for my diving trip in Cabo San Lucas. If you'd like to join the fun, check the details on my website. We'll be diving with sea lions, tons of reef fish, and maybe even some sharks! Plus, we plan on visiting the whalesharks in La Paz and enjoying a humpback whale watching tour.