Today… we'll be diving in the strong currents of Komodo.
Are you Ready?
It'll be fine, they said. 
Just follow me, he said. 
What have I gotten myself into???
It was our only day of diving in the Komodo National Park in Indonesia. Aitor, Sergio and I had been traveling together to find the perfect place to set up our very own dive shop. Both Aitor and Sergio have been diving in these kinds of strong currents, but this was new territory for me. 
Sympathetic Nervous System checking in with the stress…
"Give me cold water and zero visibility," I said to the guys.
That sounds safer for sure, more in my range of comfort… I knew my nerves were a little silly since I've been diving in all kinds of conditions and I've been instructing for several years now.
However, I freaking respect the ocean and its strength. So there I was, sweating and a little nervous for the morning's activities.
We went diving with Aitor's friend, Nacho from Neren Dive Shop which meant I was jumping into this situation with three crazy Spanish guys. 
Yeah, it'll be fine… ?
First things first, no matter how much experience you have as a diver, the second you go into new conditions, you are a beginner again.
Tune into the student mindset and listen to your buddies or instructor.
Nacho told us about all the "professionals," (aka Divemasters, Instructors and above), who show up to Labuan Bajo boasting of having "tons," of experience. These people are the ones to watch out for because of their "take-me-to-your-most-difficult-dive-site," mentality.
Without fail, these same people jump in for their first dive in these strong currents and have a short, 20-minute immersion. Later, they say that no one properly briefed them about the currents, but we all know the truth… they were just cocky and come out of their dives embarrassed. 
Something to keep in mind, not all diving in Komodo is like this. I am only speaking about advanced dive spots so don't go thinking that newbies can't enjoy the beauty of this place too!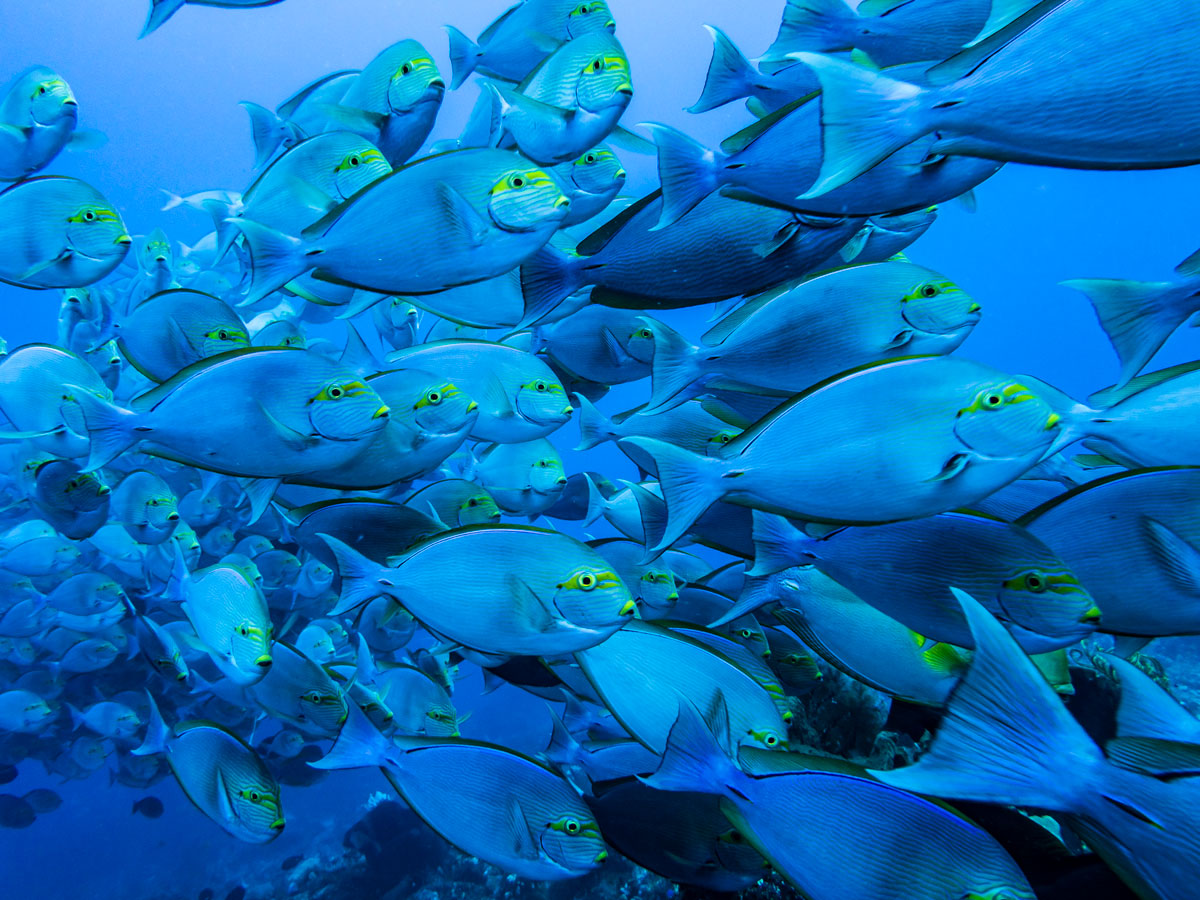 Now, back to my first dives… The first two weren't intense, but I had allowed stress to take up space in my head. Although I was nervous, the coral and creatures on those dives were on a level that I had never seen before. Healthy coral was EVERYWHERE. It really was like being in an aquarium. The amount of life was heartwarming, especially after logging so many dives in unhealthy ecosystems.
Then… there was the third dive. 
I was told we were diving in The Split.
A split is where the current literally gets cut by a land mass, making the current go to either side. The point at which the current first reaches the reef is where all the cool, pelagic life hang out. 
Alright… here we go.
We all jumped at the same time. 
My only priorities were equalizing and keeping Nacho in sight as we dropped as fast as we could down to our max depth. We hooked onto the reef and let that strong current flag our bodies, bubbles flying quickly behind us.
Life was all around… Gray sharks, white tip sharks, turtles, barracuda, giant trevally, even tiny guys like orangutan crabs… There was so much swimming around us, it was hard to decide what to watch!
Now, what to do in a ripping current like this? Well… you rock climb of course (but always watching hand placement to avoid the coral). 
We started our way down the side of the reef where it felt like all rules went out the window. Currents going front, back, up and down. I literally will never forget the feeling of the sheer force of the water pulling my mask as I turned to make sure I was still following the guys.
By the time we reached the other side of the reef, it was like a peaceful, fish utopia. There, we caught up with the other group of divers (newly certified Open Water Divers) who were fully entranced by the huge Napoleon fish swimming around. It took me a while to catch my breath… the beginning of the dive felt like a dream. 
Did I really just do that?
And follow up… when can we do it again???
I'm hooked.
The fear that I felt is one of those healthy responses from our nervous system to going into a new experience. Sharing those fears with your buddies is a practice in being humble and so necessary when scuba diving. I had never been in that situation before and dropping the ego (especially in the diving world where egos run wild) is a really important factor to safety. Your dive number or previous experiences (although they help you to deal with your stress) do not really matter in the moment.
I knew, deep down, that I was in good hands diving with Team Spain. This is a huge thing to consider before jumping in for a dive even a little bit outside of your training. If possible, it's always best to go with an instructor who has experience in whatever you are trying out for the first time.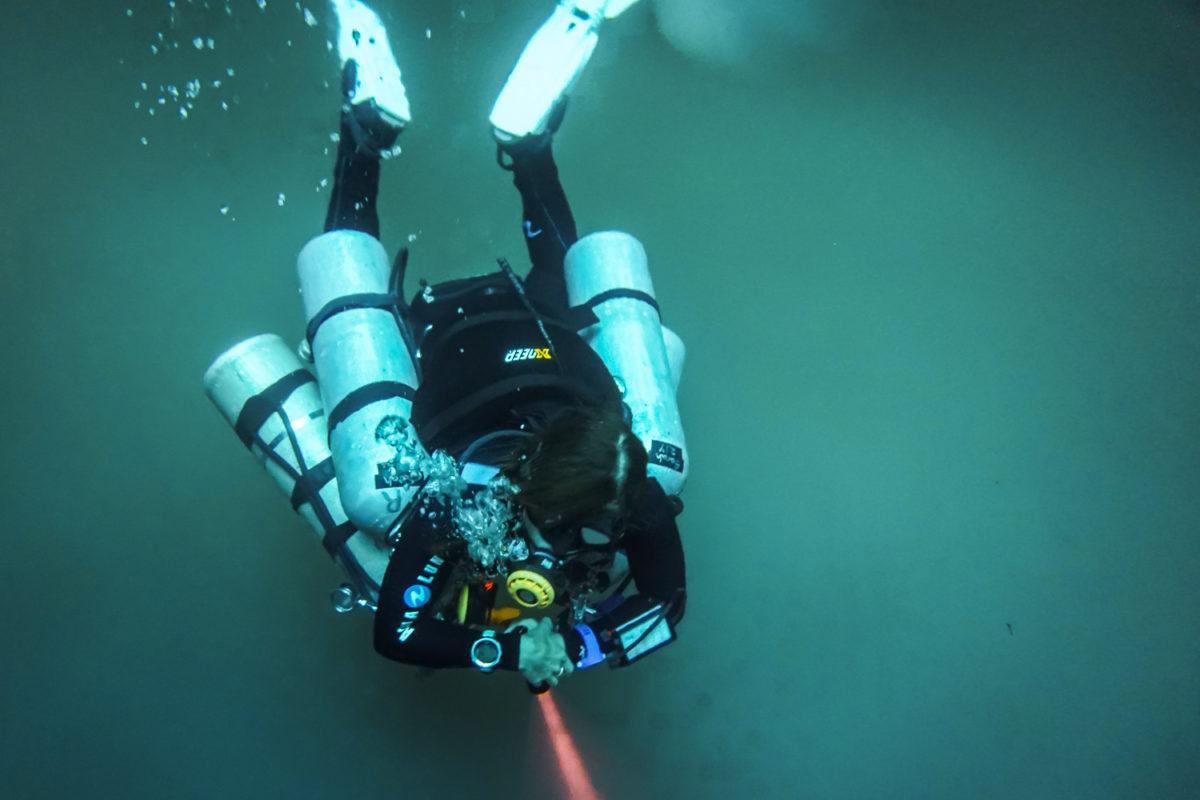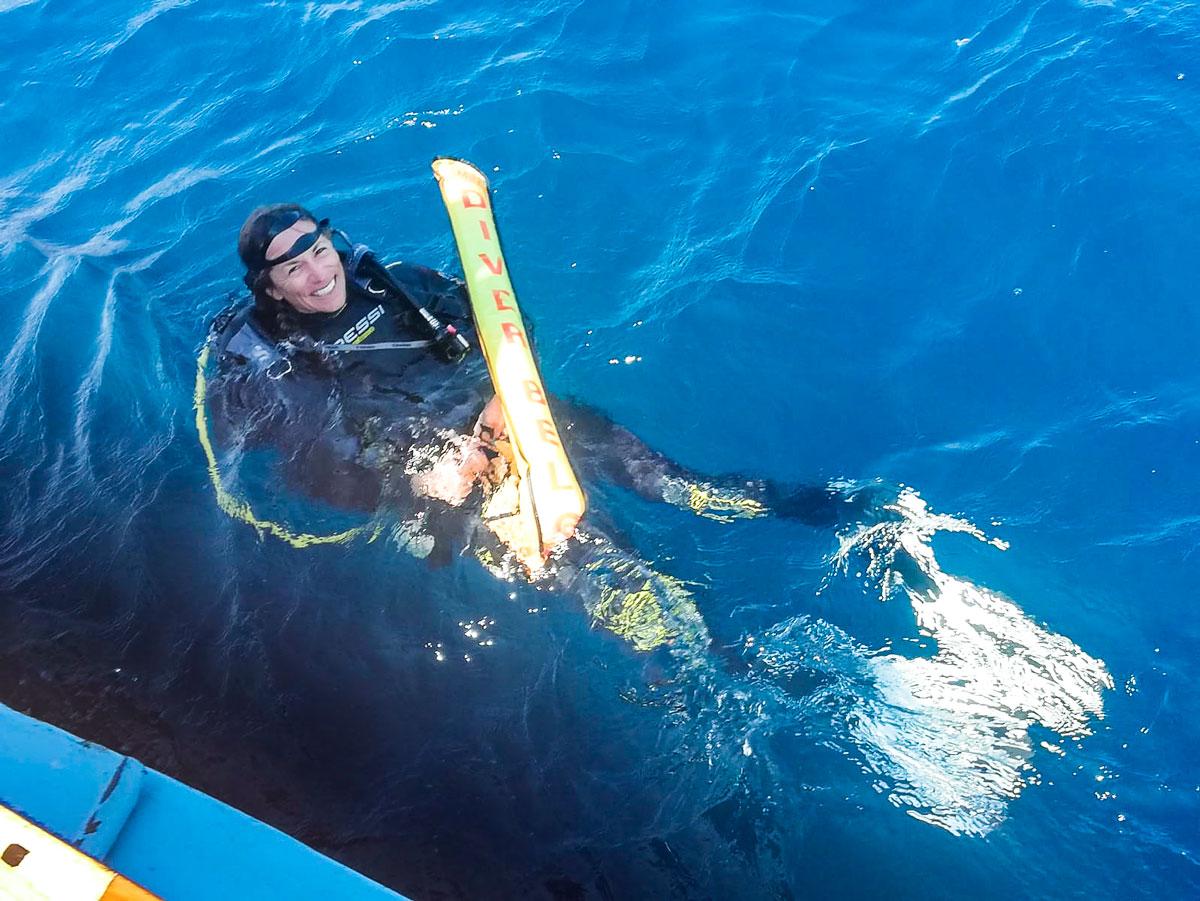 The other thing that is important to consider is your own respect for the ocean, especially when jumping into ripping drift dives. It is not something to underestimate or treat as a kid's playground, which is why dive planning is so important. We'll be talking about the specific things to consider with diving in our strong currents here in Komodo in a future blog article. Make sure to sign up for our email list to know when that's out. 
Peace!
Sarah Miller
PADI IDC Staff Instructor
Scuba adventures on YouTube!
Subscribe for silly, educational scuba diving videos–totally free and designed to help all of our students wherever they are in the world. Ask your questions in the comments below each video to get direct answers from the Azul team.