Ladies, let's get real for a minute. We all have it, so why is it so weird to talk about it? Period talk. Let's go.
It's the question that most women divers have at some point… 'Can I scuba dive on my period?'
Sorry gents, this blog is specifically for the ladies in the audience. If you're not interested in hearing about scuba diving and the female menstrual cycle, there's plenty of other articles on our website (for example: dive sites in Komodo or Diving with manta rays in Komodo).
Let's just cover all aspects of the big question:
Is it safe to scuba dive on my period?
Some studies have stated that women on their periods have a higher chance of getting decompression sickness. However, the general answer from the female diving community is that yes, it is, in fact, safe to scuba dive on your period. There are many women who work in the dive industry and have found no reality to this claim.
That being said, diving on your period can equal more fatigue and dehydration (hence why we could be more susceptible to DCS). Therefore, it is recommended to take it easy during this time of the month. It is also a good idea to stick to conservative dive planning (although we should be doing that anyway!) but even more so during menstruation.
Finally, the real safety question you were wondering about… No, you won't get attacked by a shark.
Sharks are not interested in humans regardless of whether there is bodily fluid involved. For one, we look like aliens underwater and make way too much noise with our bubbles. Two: our smells are not in any way intriguing to sharks… they get triggered by fish stomach acid and other fish juices. 
What products can I use during my period to have comfortable dives?
The menstrual cup has come a long way and it is making the top of the list of products for women in scuba diving. It takes a little bit of time to get used to how the menstrual cup works so the general recommendation is to use it for a couple of cycles before you commit to using it while on a dive trip. This way, you can get the hang of it and avoid leakage problems while in the middle of nowhere on a dive boat.
Once you feel confident with it, you're ready to go! Literally, this little product will change your feelings about menstruation. You don't have to think about it as often (the menstrual cup can be worn up to 12 hours!) PLUS you can buy one and reuse it for years! Can we say eco-friendly?!?!?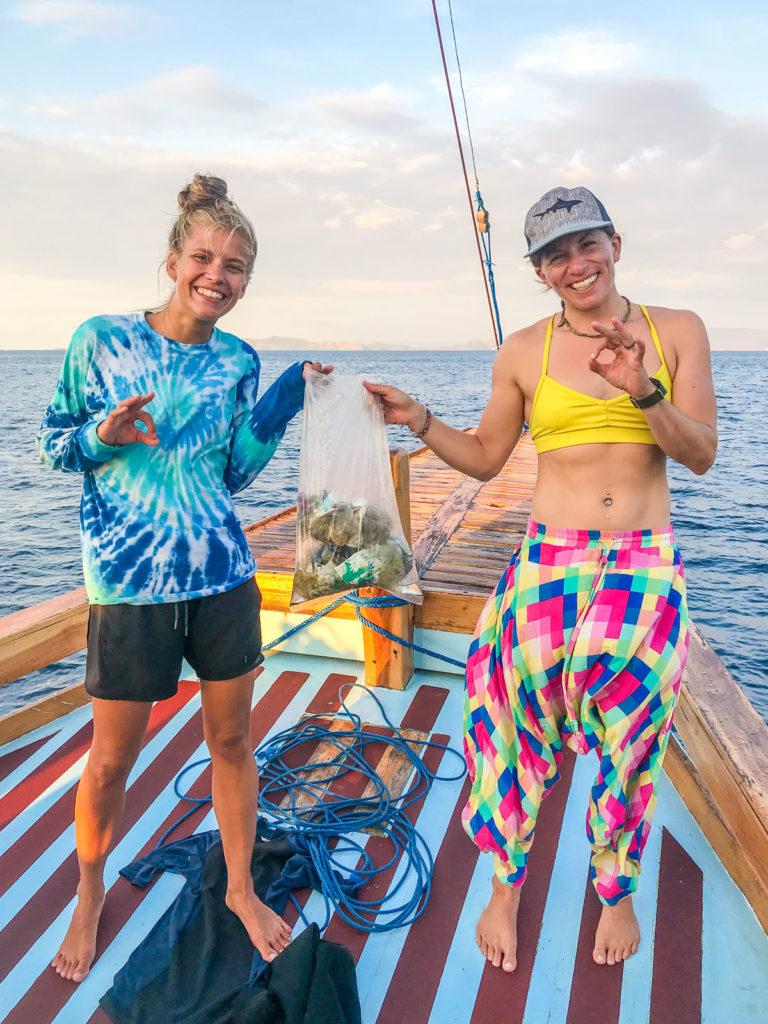 Join us for PADI Women Dive Day on July 20th, 2019
Here in Labuan Bajo, Indonesia, there are very few options for period products and it's hard to find people who are comfortable talking about it. This is why here at Azul Unlimited, we have reached out to Lunette Menstrual Cups and Higea to help us promote healthy menstruation. As part of our PADI Women Dive Day event in the Komodo National Park on July 20th, 2019, we will be raffling off 5 (that's right 5!!!) Lunette Menstrual Cups to the women who participate in our Embrace the Blue campaign.
Embrace the blue
We will be fun diving and completing two Dive Against Debris dives to help educate and promote a more sustainable waste lifestyle. This will be the perfect event to connect with fellow badass women divers who want to help the environment.