A day scuba diving in the Komodo National Park is always a treat, but manta ray season is definitely the best time to do so. From about November to May each year, this part of the Coral Triangle is bombarded by these spectacular creatures at several of our favorite dive sites in Komodo. No matter if you've never seen one, or you have seen hundreds, witnessing the dance and grace of the manta ray in Indonesia is sure to be the highlight of your trip. 
The Manta Rays in Komodo
There are two manta ray species that you can see in the Komodo National Park. They are the Reef Manta Ray (Manta Alfredi) and the Giant Manta Ray (Manta Birostris). The average wingspan for these creatures can get up to 5 to 8 meters wide and weigh about 3,000 pounds. The average lifespan, depending on the species, ranges from 20 to 50 years and during that lifetime, the females only give birth about every other year to one or two pups.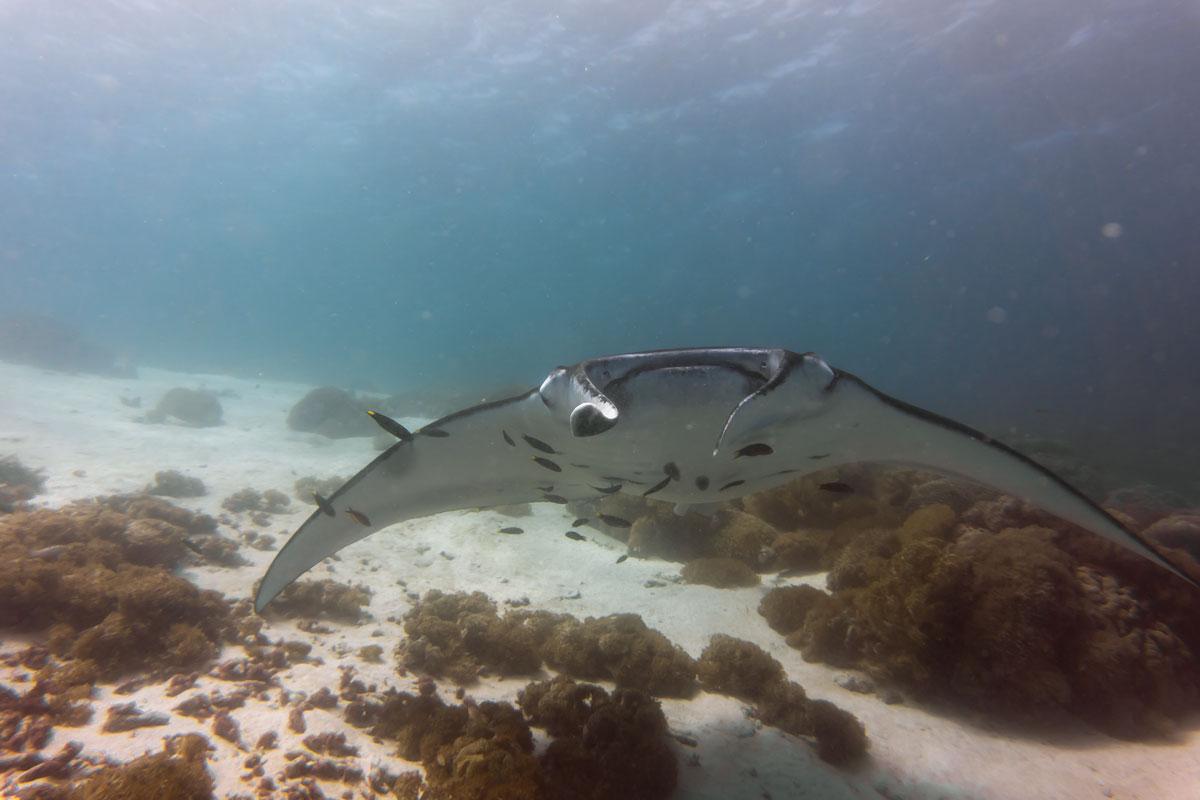 We still know very little about the Manta Ray population, but research is growing
Each manta ray has its own distinctive markings which make it easy for researchers to keep track of them. The manta ray program in Komodo, called Manta Watch, utilizes these markings in order to track migration patterns and population. The graceful manta ray can travel huge distances and will tend to visit places called cleaning stations so that small fish will remove the parasites from their bodies. These locations are usually shallow and also great for feeding so the manta ray will stay for a while which is great for us divers. At these stations, they get cleaned up while munching on delicious plankton. They eat by filter feeding using their cephalic fins to guide the flow of water towards their mouth.
Where will you see Manta Rays in the Komodo National Park?
The two main cleaning stations in Komodo Central are Makassar Reef and Mawan Reef. Here, you will have the highest probability of seeing one (or many) Manta Rays during the season. Even if they aren't there, these dive sites are beautiful in their own right. Read more about Makassar Reef and Mawan Reef in our Dive Komodo dive site blog series here! Of course, heading to the northern part of the park gives you an even greater opportunity to see manta rays all year long. Due to poor weather, the northern part of the park is usually not visited during the months of January and February. 
How has ecotourism changed the marine activity industry in Indonesia?
Here in the Komodo National Park, manta rays are part of the main tourist attraction along with our beautiful reefs, marine biodiversity, and strong currents. These gentle giants flock to this area every year because of the cooler water temperatures and a higher volume of food.  
Manta rays haven't always been respected and cared for in Indonesia. However, even though there are still fishing communities along the coastlines, giant strides have been made in the conservation of these beautiful creatures. In 2014, the Indonesian government announced that over 6 million square kilometers of Pacific and the Indian Ocean would be protected in what is now known as the 'world's largest manta sanctuary.' This has been an important move for a country with over 17,000 islands and a huge amount of oceanic influence as one of the former largest manta and shark hunting cultures. 
The benefits of stopping the manta ray hunt in Indonesia
Why has this change occurred? Besides getting a lot of poor press from conservation groups all over the world, the big influence, as always, comes down to numbers. Ocean ecotourism revenue has skyrocketed and Indonesia is seeing the direct benefits of saving manta rays in the tune of $15 million USD annually versus a measly $400,000 from hunting. Just one manta ray kept alive and in the ecotourism market is calculated to be worth over $1 million USD over its lifespan so really, this decision comes down to smart business for these fishermen.
All in all, we are happy to be a part of the growing ecotourism industry in the Komodo National Park. We believe in helping the communities move towards sustainable activities and our goal is to help these beautiful species from disappearing from our oceans.
Sarah Miller
IDC Staff #320212