The #1 question for non-divers: Is scuba diving expensive?
Although scuba diving is an expensive sport, it's not as pricey as many people perceive. Let's break down the costs: short and long term!
First, you need to get Open Water certified
Depending on where you are in the world, the PADI Open Water Course can cost anywhere from $250 USD to as much as $900 USD. The great thing about this certification is that it is a one time investment. Even if you do the course and then don't dive again for several years, you don't have to do the whole course again. However, in that situation, it is recommended that you do what's called a refresher just to get familiar with the main skills again.
The reason for the huge variability in prices is specifically where you do the course. When it comes to diving, cost of operation is the number one dictator of diving and course prices. If you go to a place where you can do all shore diving (IE never take a boat out) this typically means cheaper price. On the other hand, if you're in a place that has loads of people swarming to the boats every day (think of Koh Tao in Thailand) it is possible for dive shops to offer discounted courses due to sheer volume of people. 
Although it may be tempting to look for the cheapest course out there, remember that low price comes at a cost. Check out this blog on how to choose a scuba dive shop to see why.
Depending on your diving options, buying equipment or renting will save you money
If you have local diving where you live, it is much more cost effective to buy your own equipment and then only pay for tank fills or tank rentals. Getting your own equipment means purchasing mask, regulator, BCD, wetsuit, booties, and fins. This basic set of equipment may cost around $1000 but it's better to spend a little more on your regulators and BCD (buy a reputable brand) just to make sure they last a long time. Scuba diving equipment may be expensive, but the good thing is that it is made to last for many years. Many people have equipment that is going on over 10 years old!
If you plan on only diving on vacation every once in a while or if you are traveling and want to avoid extra luggage fees, stick with renting equipment. There are some places (like Komodo!) that will include the equipment rental in the price of diving.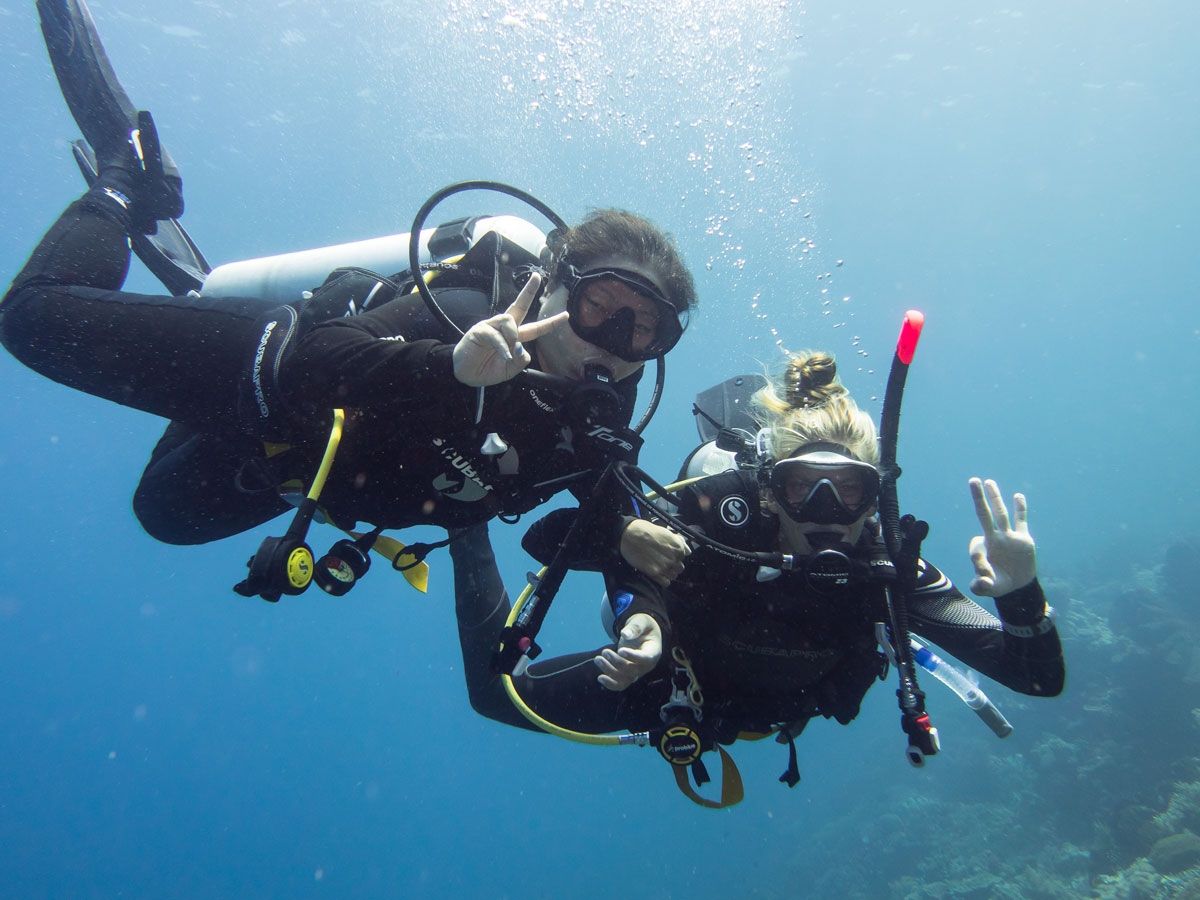 Do your research and choose your destinations being conscious of the costs included
In some places it is possible to find deals for diving, but others, it's just impossible due to the remote location or other costs of operation. Usually, these places that are more expensive are well worth the cost because the diving is spectacular. This is what you find in places like Komodo and Socorro Island. 
If you want cheaper diving, you will have to choose a destination that has close dive sites or a lot of tourists. Also, keep in mind that just about all dive shops will give discounts to people who are diving many days. This way, your cost per day can go down while you get the opportunity to really get to know a dive location.
You can postpone getting your Advanced certification
If dive locations require you to be 'Advanced' that doesn't necessarily mean you have to get the full Advanced course straight away. Although going through the whole course is very helpful in order to develop as a diver, you can save some money by just doing the Deep Adventure Dive. This experience will allow you to go to a maximum of 30 meters which means you can do those 'advanced' dive sites as long as you have enough dives and experience under your belt.
Looking to save more? Choose your adventure sports wisely
When you consider the costs of other adrenaline sports, scuba diving doesn't have to be that expensive. It all depends on the where and what of the kind of diving you are interested in doing. Usually it is best to get into just one of these kinds of sports (skiing, scuba diving, sky diving, etc) so that you don't invest all your money on tons of equipment, unless you're really into that kind of thing ?
Scuba adventures on YouTube!
Subscribe for silly, educational scuba diving videos–totally free and designed to help all of our students wherever they are in the world. Ask your questions in the comments below each video to get direct answers from the Azul team.