Got the travel bug? Well then, you probably are buzzing to have new experiences and to push yourself out of your comfort zone. Maybe for you this means finally looking into getting scuba certified! Getting your scuba diving certification is one of the most memorable experiences of your life. However, you may be feeling a little anxious or afraid about taking the plunge and breathing underwater. So… let's take a look at how to overcome your fear of scuba diving.
Fear is totally normal, but nothing that should keep you land-locked
The first time anyone goes for their first scuba dive, there is always a certain level of nerves. First, because the prospect of what you are about to do underwater is exciting. Second, because it's a totally new environment of which we are not accustomed. Therefore, it's completely normal to feel some fear of scuba diving for the first time, but nothing to keep you from having that experience. 
If your fear stems from fear of deep water or open ocean, try these things
Become a confident swimmer
If you feel like you're not the best swimmer, of course it's going to feel intimidating to jump into the open ocean with a scuba tank on your back. Plan ahead and spend some time swimming around in a pool a few days to a few months in advanced. Take some lessons if you need to! You don't need to be the strongest swimmer in order to be able to scuba dive, but if you are nervous, it will definitely boost your confidence if you feel at ease in the water. 
Go on a guided snorkel tour with an experienced guide
Once you feel solid as a swimmer, it could be useful for you to work on just being in the ocean. By booking a guided snorkel tour, you will automatically feel more safe because someone will be in the water with you showing you where to go. Not only will you get experience with being in deeper water, but you'll also get to practice using a mask and 'mouth breathing' via the snorkel.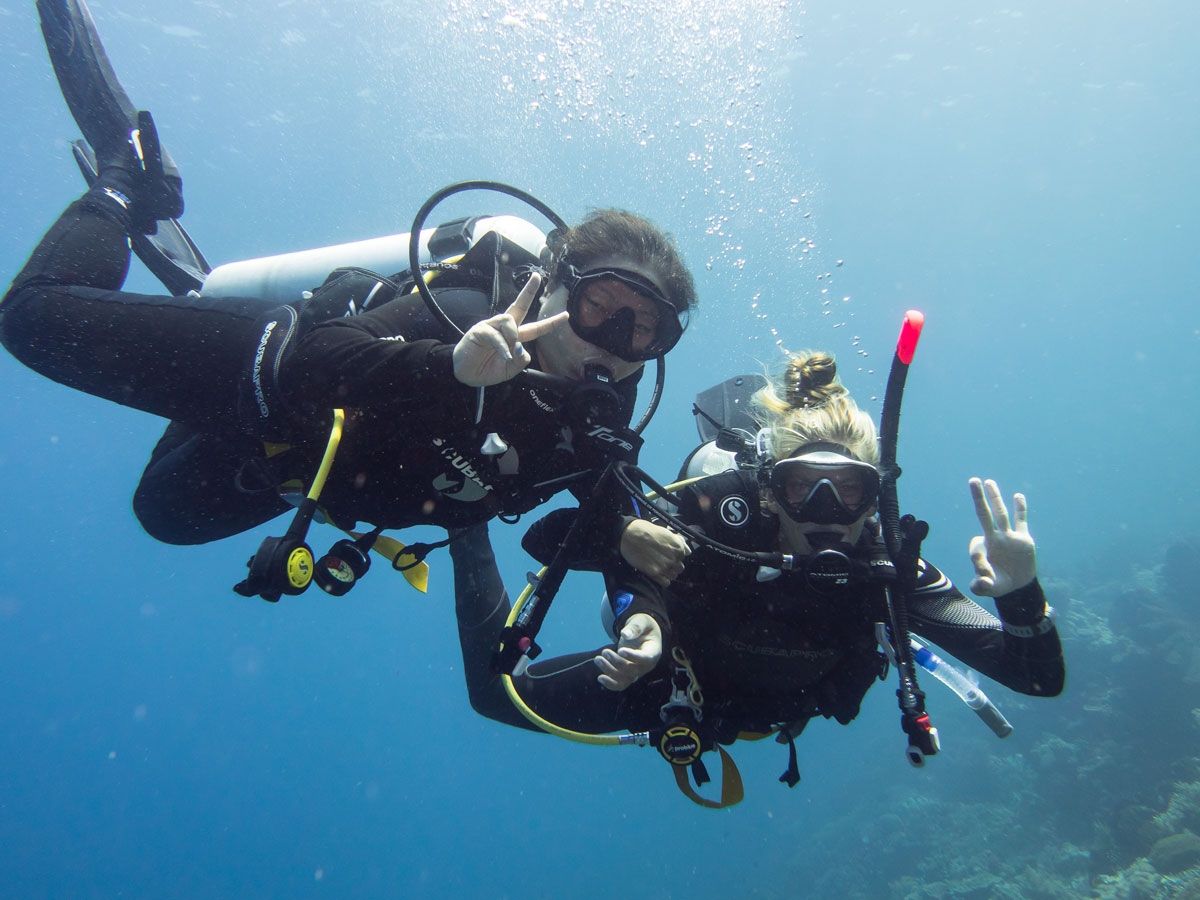 If you are afraid of sharks (or other big creatures) check this out
They are more afraid of you. It's a fact. When you go underwater in scuba equipment, you not only look like an alien, but you are also super loud as you breathe from your regulators. Some creatures may be curious about you, but a lot of them are going to want to get away. This goes for sharks too. The majority of sharks want very little to do with scuba divers. 
Of course you have heard about shark attacks on surfers and swimmers in the sea… however they are very rare! The reason it happens is out of shear confusion on the side of the shark. When a human is at the surface, they closely resemble a large seal which is a natural part of a shark's diet. As a scuba diver, you don't look anything like their food (even at the surface) and you are underwater the majority of the time where sharks know for sure that you are not something to bother. 
If you are just nervous in general about doing something outside your comfort zone, do this
Research is your friend. Figure out where in the world you want your first scuba diving experience and start looking up dive shops. Choose one that gives a thorough Discover Scuba Diving program complete with theory, equipment orientation and skills. Ask for an experience instructor and be honest with them. Tell them that you're scared. They will be super supportive and kind because all instructors remember those nerves from the beginning of their career.
Finally, just breathe
Taking some deep breaths and meditating before getting into scuba gear for the first time is very helpful. You can ask your instructor to let you know when you are 20 minutes away from kitting up and take some of that time to do some deep belly breaths. Lay down on your back if there's room on the boat! Remember, as you are scuba diving, just continue taking these kinds of deep, meditative breaths. It will not only keep you relaxed underwater, but also allow you to dive longer!