Scuba diving passion or masochism?
Sweet reunions
I finally made it to Cabo San Lucas where I met up with Aitor, who Abby and I haven't seen in over a year and a half.
I arrived just in time to join the PADI Instructor Development Course at Dive Ninja Expeditions, and I gotta say, after a two-year break from teaching, it felt so good to be back teaching, especially with this particular group of students.
What's an IDC?
The Instructor Development Course is an intensive, two-week course, focused on training Divemasters how to teach recreational scuba diving courses.
I've said it before and I'll say it again, being an instructor IS NOT for everyone. The job is difficult, the pay is low, and the responsibility is high. And unlike the other courses up to this point, the IDC is mostly taught in the classroom. You do get time in the pool and open ocean, but if you're hoping to spend most of your time in the water, you will be disappointed. Generally, the IDC is focused on making sure students understand the systems, standards, and techniques, while your first job will provide the real in-water experience. This is why it's so important to start with teaching continuing education students or co-teach with experienced instructors before taking on your first Discover Scuba Divers or Open Water students.
Classroom sessions during the IDC include learning about the training organization and course standards, teaching beginners, connecting courses, marketing and business, and of course, diving theory. Then, a decent amount of focus will be on the pieces of the final Instructor Exam (referred to as the IE). The IE consists of written standards and dive theory exams, and live presentations in the classroom, confined water, and open water, along with a full demonstration of the important Rescue number seven. For those of you unfamiliar with the rescue number 7 skill, that's when you find an unresponsive diver at the surface and, as the rescuer, need to give rescue breaths while towing the victim to the boat or shore while removing equipment.
During the confined and open water presentations, your fellow Instructor Candidates will act as your students and the Course Director or IDC Staff Instructor will assign problems for them to act out and for you to solve.
Shore diving at Chileno Bay
The dive site is quite the surface swim, which is why this is almost always done as a boat dive. We gave it a go, but there is a specific spot on the western side of the rocks that allow you to swim to the other side and we didn't quite make it there. The dive was still a nice showing of fish, rays, and moray eels, plus, the sunset from the water after the dive was the perfect way to cap off our time together.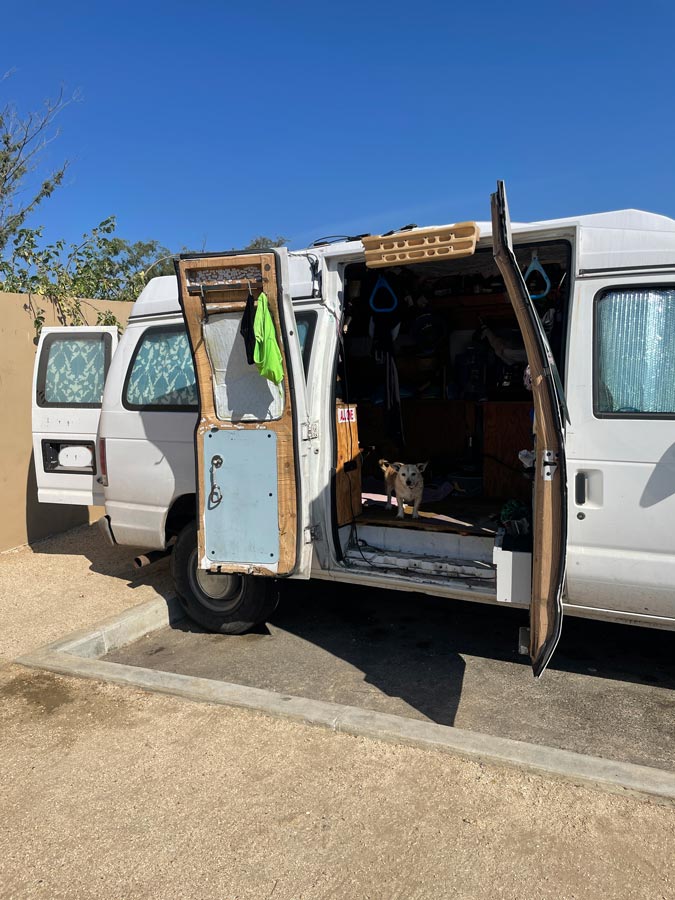 Car camping and #vanlife around Cabo San Lucas, Baja Sur, Mexico
Cabo San Lucas is a big city and it's not the most comfortable place for van dwelling. That being said, I did find a couple of spots that worked well for me during my stay there. If you are able to stay further away from the city, there are even more options. I was limited since I needed to go to the dive shop just about every day.
Playa Santa Maria
A public beach with a paved parking lot, it doesn't get much easier than this. There are toilets open all night and cold water showers. The beach doesn't allow dogs, but this spot is generally quiet and feels super safe. This is technically government property so I have heard of the police clearing the place out, but in all the time I stayed there, I never had a problem. Chileno Bay has a similar set up, but the bathrooms close in the evening.
Playa El Suspiro
This is a popular public beach, great for bonfires and watching the sunset  (with a bonus of whale watching from January to March-ish). There are no facilities here and you'll need to make a judgement call on whether your vehicle can make it to the last parking area. I did just fine in my 2WD van, but I've heard that sometimes the road is really sandy. I'm sure some people wouldn't feel comfortable staying out here, but I had zero problems.