Komodo Airport (LBJ) is located in the small town of Labuanbajo and covers the west of the island of Flores in the Nusa Tenggara Timur region, Indonesia. The fact that a small town has an airport is because Labuanbajo is the gateway for those tourists and visitors who come to visit the Komodo National Park, its famous dragons, and for diving enthusiasts, as its waters are known for great marine biodiversity.
How to get to Komodo?
At present, there are two main cities that connect daily with flights to Labuanbajo, and they are Jakarta and Denpasar (Bali). There are plans for allowing Komodo airport to receive international flights in the future, although it is a growing rumor among the expatriate community of Labuanbajo and there is no confirmation from the authorities.
If you are coming from Jakarta, the companies that currently offer direct flights are Garuda, Wings Air, Citilink and Batik Air. Depending on the arrival time of your international flight, you can transfer directly to Komodo on the day of your arrival. However, if you arrive late, you will have to stay at least a night in Jakarta to leave the next day. The reason is that airlines do not fly to the Komodo airport at night.
There are several hotels near the airport that offer pick up and transfer from the international terminal. Do not forget to reserve them before your arrival in Indonesia!!!
If you have decided that your airport of entry is Bali (DPS), you will have a similar situation as in Jakarta. In my opinion, if you plan your holiday well, you can always spend a few days in Bali before or after your stay in Komodo. Bali has many things to offer and is a good place to spend a few days (Jakarta, in my opinion, is not worth it). If you need help planning your trip do not hesitate to contact us, as we know several places and a good driver who can be your guide in Bali.
From Bali fly Garuda, Wings Air, Nam Air.
Those of you who have decided to move to Lombok are in luck since Wings Air has begun operating once a day to Labuanbajo.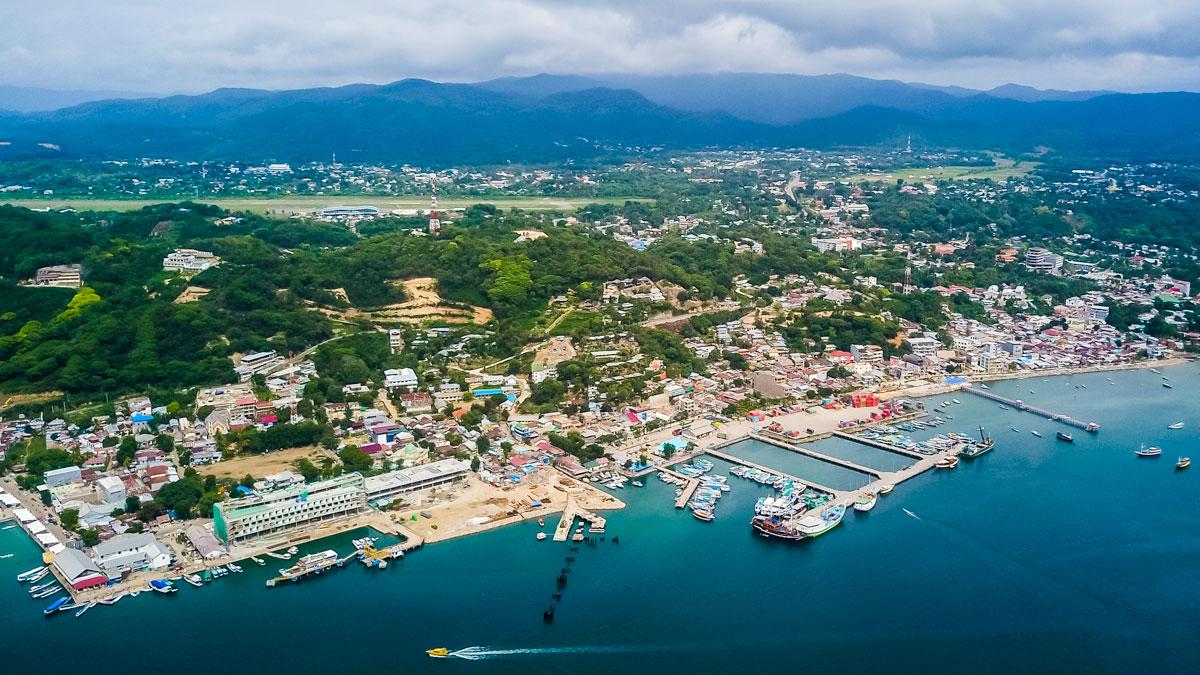 What to do when arriving at Komodo airport?
The arrival terminal has two small carousels where you can collect your checked baggage. Once you have it, go to the exit where there will be people waiting (they will ask you for your luggage tags to make sure that you have the correct bags).
Surely after your flight, you want to go to your accommodation to rest. The distance to the town from the airport is not much (5-10 min in transport).
If you have booked one of the hotels or hostels in Labuanbajo, you will look for your pick-up service at the airport. Many hotels and hostels offer this service free of charge and others for a small fee.
For those who do not have your transport booked, you will not find it difficult to find transportation upon leaving the terminal. There will be many drivers offering their services. The journey to most accommodation in the center of the village is not very long and should cost 50.000 rupiahs. If you go to other hotels located on the outskirts of the town it may cost you something else (it will also depend on your negotiating skills).
Do it the Indonesian way!
For those who want to try the "local"way, you have the option of hiring an "ojek". Ojek is the most commonly used form of transport in Indonesia, and it is nothing more than a package on a motorcycle. Its price is ridiculous and the trip to the town can cost you as little as 15.000 rupiahs.
If your thing is to save money and exercise, it is actually possible to walk to the town. Just do not expect paved sidewalks and facilities for pedestrians in this part of Indonesia. The walk will take you 25-45 minutes depending on your fitness and the warmth you are able to endure. Take water by hand and enjoy the walk down the hill until you reach the village next to the sea.
If you get tired you can always stop an ojek and avoid the walk to your accommodation.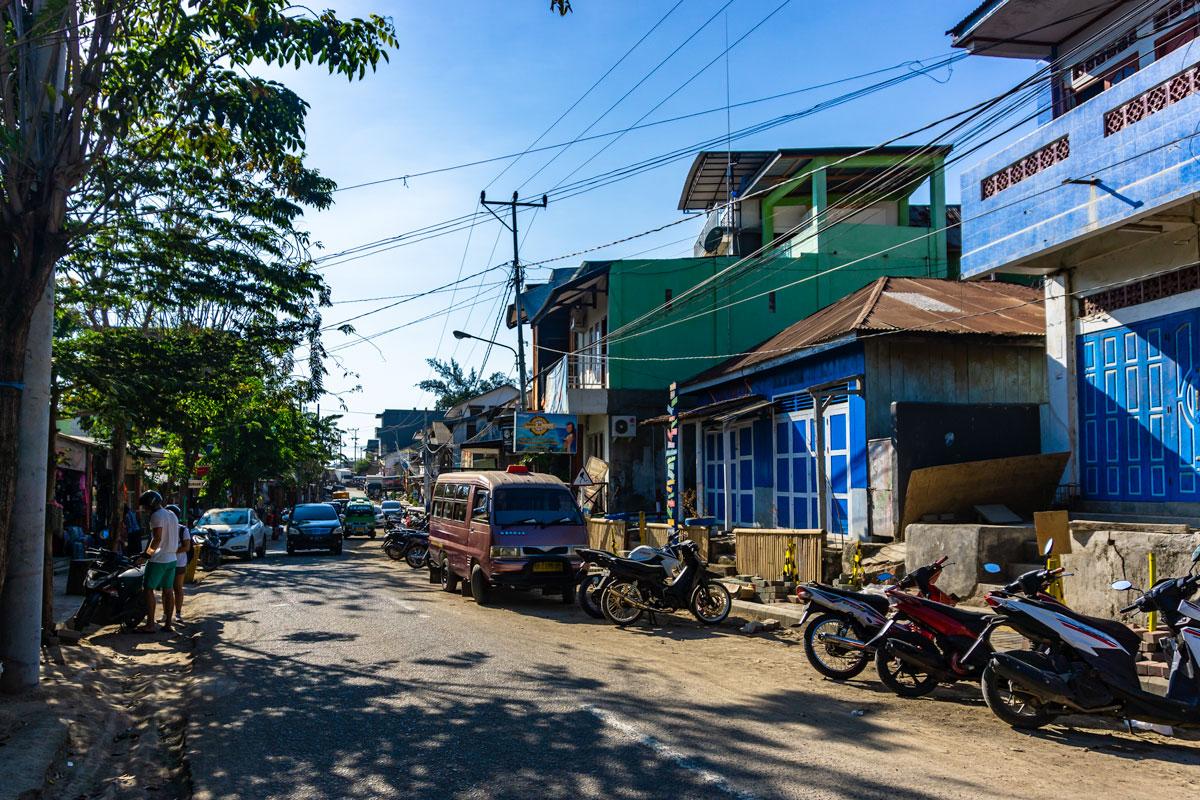 Getting around
During your stay, you can walk to most places in the town. Only if you are more intrepid and you want to explore the surroundings of Labuanbajo (Cave, waterfall, beach) I recommend that you rent a motorbike. There are several places that offer rentals in the center of town. The price does not usually vary between them but does depend on the season. On average, you can rent a motorbike for 70.000 rupiahs a day.
Labuanbajo is connected not only with Jakarta and Bali but from here you can take flights to the east of the island of Flores and even to Timor.
At the time of returning to catch your departure flight from Labuanbajo, you can use the same methods described upon your arrival. Go with time to check in. If you have a flight during the middle of the day, you may want to buy some food because the options at the terminal are scarce.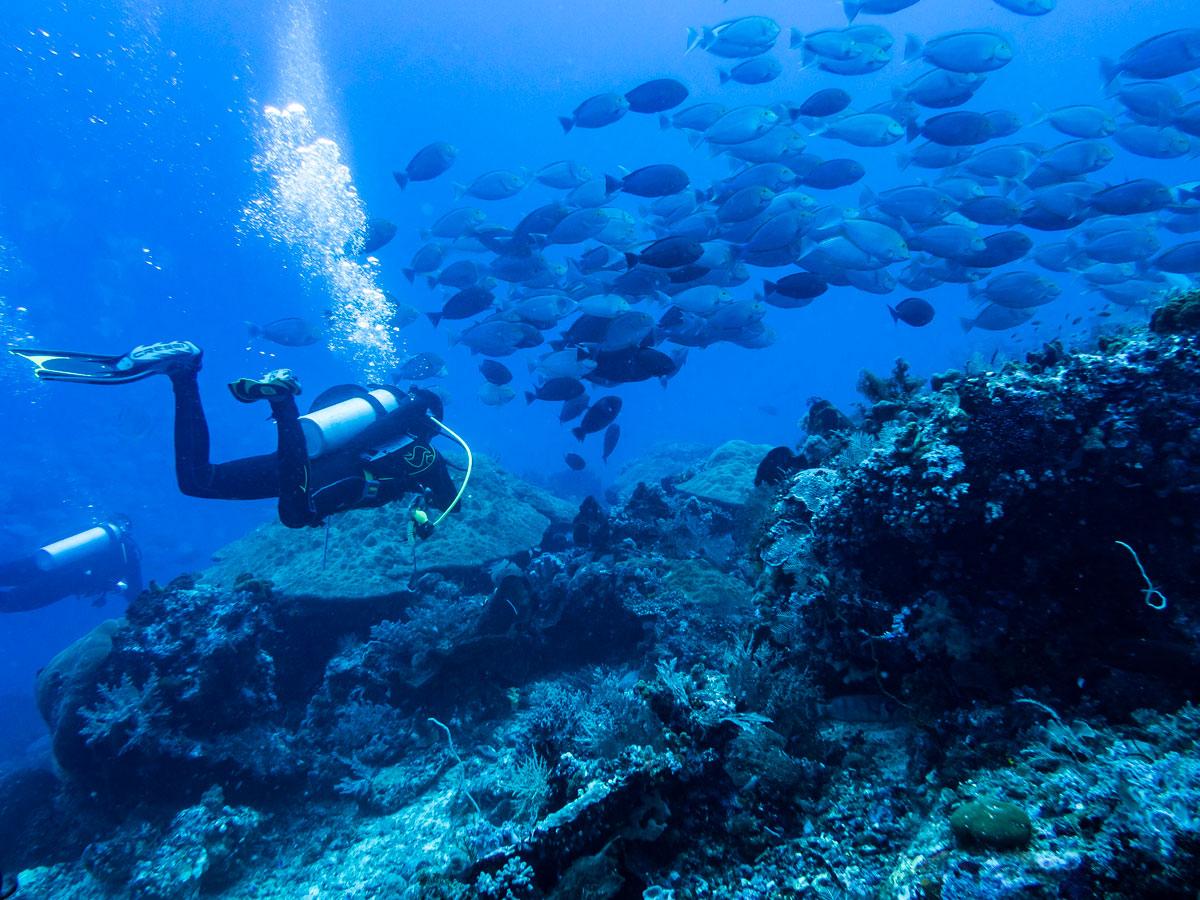 Looking for fun activities in Labuan Bajo?
If you are coming to Flores Island, you must go out to the Komodo National Park. As long as you are out here, you need to make time to see the Komodo dragons as well. You can combine a trip to explore the national park and visit the Komodo dragons with one of our 2 dive + Rinca Island tour day trips. We also do 3 dive day trips which allow you to see more of the Komodo National Park!
Contact us to book your spot now!
See you soon and Buen Azul!!!
Sergio Palazuelos
PADI MSDT #345513