72 Hours of VANLIFE: Scuba Diving in the San Juan Islands
This was my favorite stop on my trip to Washington. The islands are gorgeous, and the diving is even better. I did two shore dives on San Juan Island: Lime Kiln Point Lighthouse and Dead Man's Bay.
It's really easy to travel around the San Juan Islands. If you buy a ferry ticket to San Juan (the furthest island east), you can make your way back west for free. Your second stop will be Orcas Island, and you'll finish your trip with Lopez Island before going back to the mainland.
Staying the night on the San Juan Islands
You'll also want to check out options for staying the night if you plan to do so. It would be possible to make a long day of it: dive in the morning and then island hop until the last ferry of the day. However, there are plenty of hotels and campsites on each island, and on Lopez specifically, you are allowed to boondock in town next to a public restroom/shower for up to 72 hours.
Some things to consider for your dive trip
Check out the tide chart for your desired dive days. It's important to dive at slack tide, preferably high tide, so you don't get blown away by the currents. Currents can be VERY strong here.
Bring enough tanks. As of 2022, there are no diving services or a dive shops on San Juan Island. The dive charter which used to run boat trips to these sites, closed about a year ago.
There are grocery stores on the islands, but I decided to stock up on food and water in Anacortes before taking the ferry.
You will need a Washington State Parks Pass for Lime Kiln State Park and any other State Park you decide to explore during your stay. You can pay for the day ($10) or the year ($30).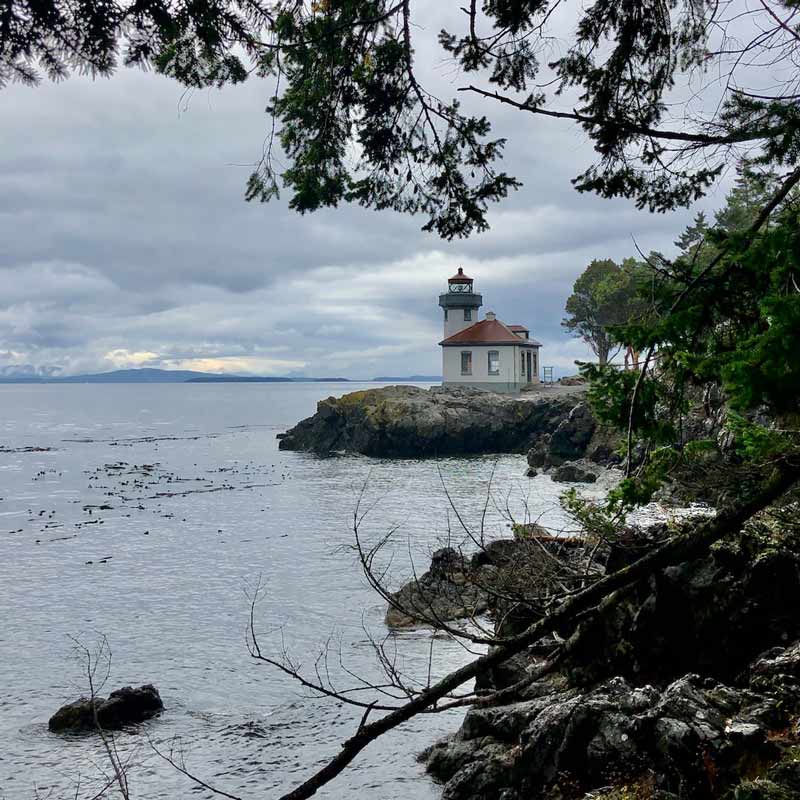 Lime Kiln State Park
Park next to the gift shop and food stand. Take a walk to the lighthouse to check out the entry. The trail to the water is to the left of the lighthouse. It's a narrow entry, but pretty simple. Underwater you'll find a nice kelp forest, and if you need to wait out the last bit of current before slack, you can spend some time in the bay to the side of the lighthouse. Then, when water movement is minimal, head straight out from the lighthouse to explore the rocky drop-off full of fish and invertebrates. You can also find cold-water coral and plenty of macro life.
Diving around here is similar to all Puget Sound diving in that it's dark at depth!
Dead Man's Bay
Park at the trailhead above the bay. There aren't many spots, so getting here early or doing this dive on a weekday may be your best options. The beach is made of medium-sized rocks, so you will sink in a bit as you enter and exit the water.
I did the West side of the bay, starting at the small kelp forest next to the rocks that peak out (which is where you can cruise the pools at low tide). I swam through the kelp forest and out into the bay to find more depth. Here, I found a lot of invertebrates and the largest Giant Pacific Octopus I've seen on my road trip around the Pacific Northwest.
I only went diving on San Juan Island, so I don't have information on Orcas or Lopez, but the conditions and high tide considerations are all similar.
Don't miss these spots:
San Juan Island
Dead Man's Bay in the early morning is peaceful and lovely
The Pelindaba Lavender Farm
Lopez Island
Shark Reef County Park for a nice view
Otis Perkins State Park for sunset