Indonesia is turning towards conservation and protecting the graceful manta rays that roam the surrounding seas. Manta ray encounters are truly memorable and have become part of a long 'bucket list' of sea creatures that scuba divers hope to see in their dive career. If seeing manta rays in Indonesia is part of your next vacation plan, there are two Manta Points off of Flores Island located in the Komodo National Park! These two spots are common 'cleaning stations' for the pelagic rays and are where you will have the best chances of spotting them during a dive in Komodo.
What is a cleaning station?
Nobody wants bacteria or parasites on their bodies, right? Therefore, fish and pelagic creatures must look for a way to keep their bodies healthy and clean. On the coral reef, small fish, commonly known as cleaner fish, perform this function for them. The most common cleaner fish in Komodo are the bluestreak cleaner wrasse (among other wrasses). Other common cleaner fish can be gobies or lumpfish depending on where you are in the world. Several different species of shrimps perform cleaner roles on the coral reef as well. 
The way these cleaning stations work is that one group of cleaner fish sets up shop at a spot on the reef. Each location has their fish 'regulars' who they treat with the normal cleaning job. Because the cleaner fish have seen these regulars before, the cleaning is a sort of low maintenance thing. These larger fish visit the same cleaning station time and time again so you'll notice the same creatures hanging around that specific area. 
When a new 'customer' comes into the cleaning station, the cleaner fish take advantage of the opportunity to give that newcomer a deep clean. This not only helps that traveling fish (or pelagic creature) but could also encourage them to come back for more cleanings in the future.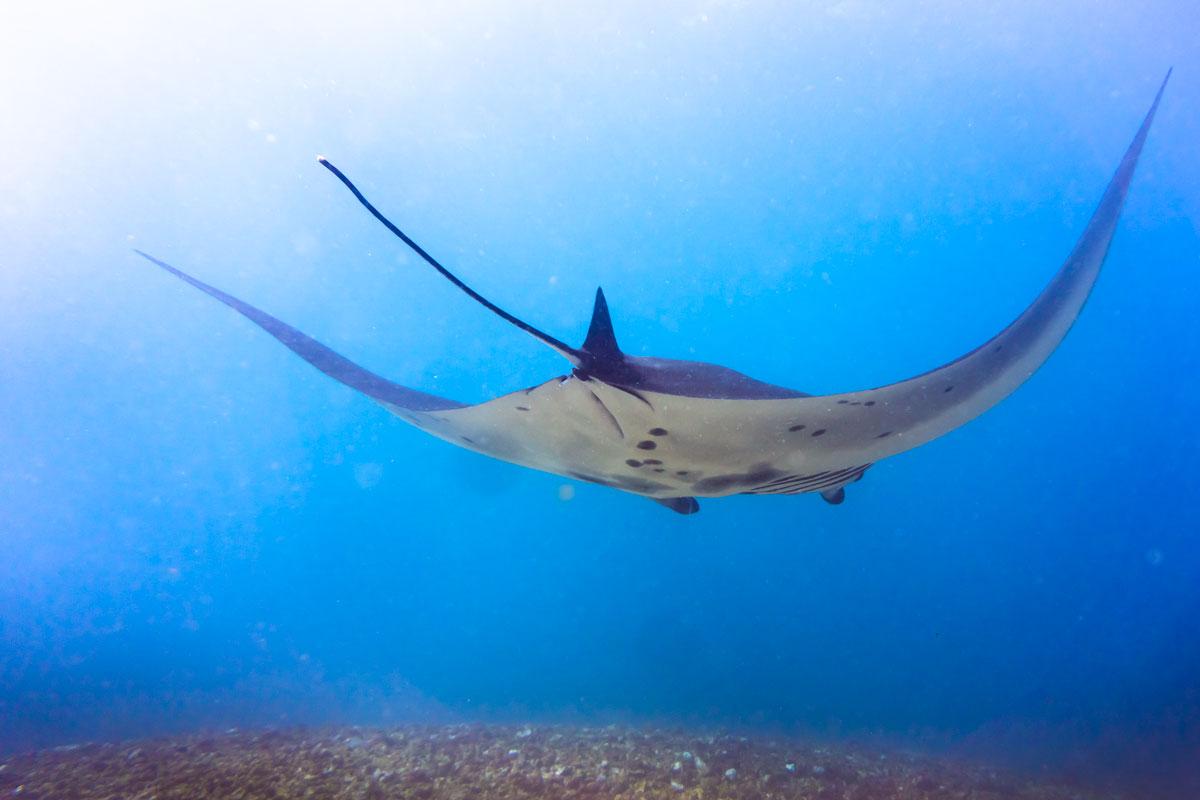 So where are these cleaning stations in Komodo? Karang Makassar: Makassar Reef
A huge clustering of cleaning stations within Komodo Center is locally known as Makassar Reef. This is a huge dive site and is a great option for all levels of divers as well as a fantastic snorkeling destination. This is typically a drift dive where you will float along with the current over an interesting bottom substrate of sand and dead/broken coral sprinkled with beautiful, lively coral gardens throughout. 
Find manta rays also at Mawan Reef
Mawan is a lesser-known Manta Point off of Flores Island, but is worth the visit when the conditions are right. The coral reef is gorgeous and the cleaning stations are located at about 5 meters which make for perfect conditions for photography and videography. This dive is also appropriate for all levels (when currents are appropriate) and usually done as a light drift dive.
Time to check off some sightings from your own bucket list.
Haven't seen one of these graceful creatures yet? Visit Komodo National Park for a special experience in the water! The main season to see them is typically between November and May, however, you may have the chance to see them outside of the season in different parts of the park.
If you have seen manta rays before, do you remember where you encountered the first one? Whether it was during a memorable snorkeling trip or during a beautiful scuba dive, it more than likely left a lasting impression. Start making plans to have more memories in the water with the manta rays in Komodo in the coming years!