One of the best things about scuba diving is sharing moments and making memories with your dive buddies, but if you're like me, you often travel alone so… how do you find dive buddies and how to be safe when diving with strangers?
Finding buddies
The best way is to be friendly with your local dive shop. Meet buddies through courses or friends of friends at the dive shops.
Stay in contact with your instructors: If you're in a place where there is shore diving, many instructors will invite previous students to join on dive days. You can rack up some hours underwater, and it's a great opportunity to meet new people.
Do a Google search for local meet-up groups – Facebook is a good place for finding dive clubs
Social media: I feel like social media is its own beast simply because people can learn about you and feel like they know you based on what you put out on the internet. If you're going to meet up with someone from social media, make sure you've interacted with them for some time. Scour their posts for any signs of crazy (whatever that means to you). If possible, take someone you know for your first meet-up, even if your friend just hangs out in the parking lot while you dive. If you can't do that, let someone on land know where you will be and your dive schedule. Choose public places and my standard rule is no night dives for your first dive together. (I have broken that in special occasions – some of my Patreon supporters know what I'm talking about). Which brings me to my next point…
Ultimately, you have to trust your gut
If you get an unsettled vibe from someone, cancel the dive.
If they turn out to have unsafe diving habits, cancel the dive.
There is no point at which you 'can't' cancel the dive. Even if you're out on a boat, no one can force you to get into the water with someone who feels unsafe.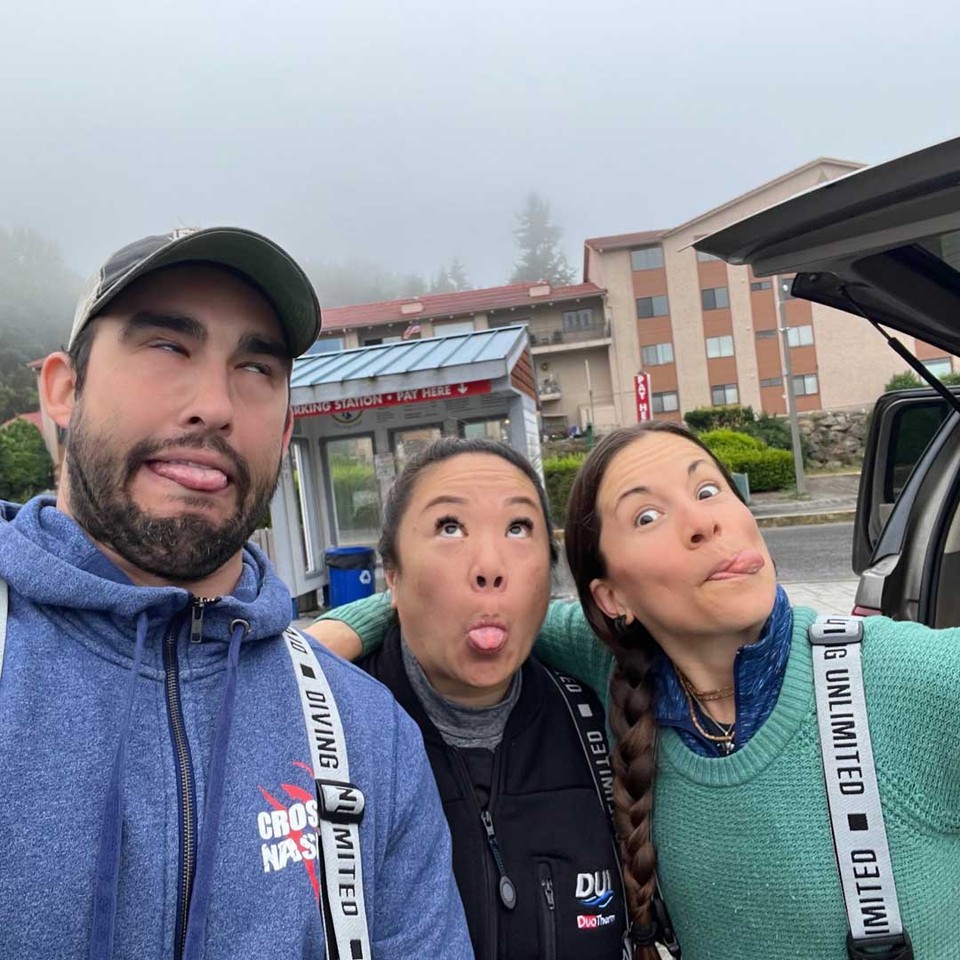 Getting paired with random people on the boat (and how to deal with that)
Ask them questions: A good resource is the PADI ReActivate course questions, but be normal and conversational about asking them.
How many dives do you have, and in what conditions and environments?
When and where were your last dives?
How did your last dives go?
Finally, go through each other's equipment, so you're familiar with the safety features.
If you're going to do a lot of solo travel, I recommend becoming at least a Rescue Diver. You will feel more comfortable helping other people with problems. That's not to say you must be a Rescue Diver in order to dive with new people, but it's a good idea. Gain enough experience to be able to deal with your own problems. Think like a solo diver, but be available and attentive to your buddy.
Solo international travel
Before you book your trip, ask these questions of your dive operator:
How full is the boat?
What's the general plan for dive sites?
What kinds of divers are already signed up for the trip?
How big are the groups? (this may or may not be relevant depending on if you're in a place where you will have a dive guide or just be diving in buddy teams)
Find out about accommodation because if it's a packaged trip (like the AZUL UNLIMITED DIVE EXPEDITIONS), you may or may not be reserving a private room. You want to choose the accommodation option that's comfortable for you.
Getting into the local culture
The easiest way to get connected to likeminded travelers is to book a dive trip, make friends with your dive guide, and then go out with them for food or drinks after. The dive guides and instructors tend to have a lot of people around them, so you have a good chance of meeting locals, expats, or other travelers simply by hanging around afterhours.
My favorite way to get into the local culture is by signing up for volunteer programs like reef or beach cleanups or attending educational chats about the local ecosystem while you're visiting.
A general note about buddy pairings and rescues
This doesn't only apply to diving with strangers. When diving with a buddy, you should consider body size and fitness level in case of a rescue. In some instances, you will not be alone, so this isn't as much of a factor. For example, if you're diving from a boat with a crew, it's ok to dive with someone bigger than you because if you need to get your buddy's unconscious body onto the boat, there will be a lot of hands to help. However, if you're in the same situation at a shore dive site with no one around, you don't want to be in a situation where you can't physically get your buddy out of the water. There are, of course techniques to help small people rescue larger people, but you have to be honest with yourself about your own capabilities, and about how complicated the water exit is.
Join me on upcoming Azul Unlimited dive expeditions