If you've been diving for a while now, you probably have your own list of 'must-haves' for your scuba dive travel bags. Things like coral reef safe sunscreen and your dive equipment are pretty easy to remember. However, as you travel the world (like maybe to Komodo National Park 🤩), you have probably come to realize that the difference is made in the details. For this reason, when you are packing for your next dive trip, some of these 'non-essential' products can really improve your experience. 
Simple items for better dive travel
It may be tempting to look cool and spend hundreds of dollars on a fancy dive watch to match with your dive computer, but the old school Casio is where it's at. For only about $10 US dollars, you will have a watch that, from experience, can handle just about anything in the water. They last forever and only crack under pressure over 80m! This is a great product to use along with a depth meter as a back up for your dives as well as the perfect everyday tool to make sure you don't miss your boat in the morning. 
2. Survivor buff
This seamless tube of fabric (also known as a survivor buff) is incredibly versatile and perfect for boat travel. It can be used to cover your mouth/nose/ears on a windy dive boat, cover your eyes to block out the light and get a snooze on the boat or even be used as a bikini top for those of my fellow petite women out there! This piece of fabric is made for dive travel due to its small, packable nature. Just put it around your neck and hop on your flight.
3. Waterproof backpack
Everyone knows that on a boat, even when there is a designated dry area, there is a possibility for your stuff to get wet. Therefore, investing in a good dry bag is a great way to ensure that your electronics and other personal belongings remain safe throughout your trip. There are a few different styles of dry bags, but the most useful one is the backpack style with comfortable straps. This bag can not only be your boat bag, but really, it can be your normal backpack whether you are planning for dive travel or not. 
4. Carabiner
A great multi-use tool. Upgrade to one that has other tools like a flathead screwdriver, can/bottle opener, etc and you've really got yourself a dive travel must!
Out of the water: Use it on your waterproof backpack for holding onto keys, your hat, etc
With your dive equipment: Use it for fin transport on your shore dives or as an accessory holder.

 
Pro-tip: Make sure to buy stainless steel carabiners and try to rinse in fresh water if they've been exposed to the sea. Otherwise, they'll get stuck and crusty!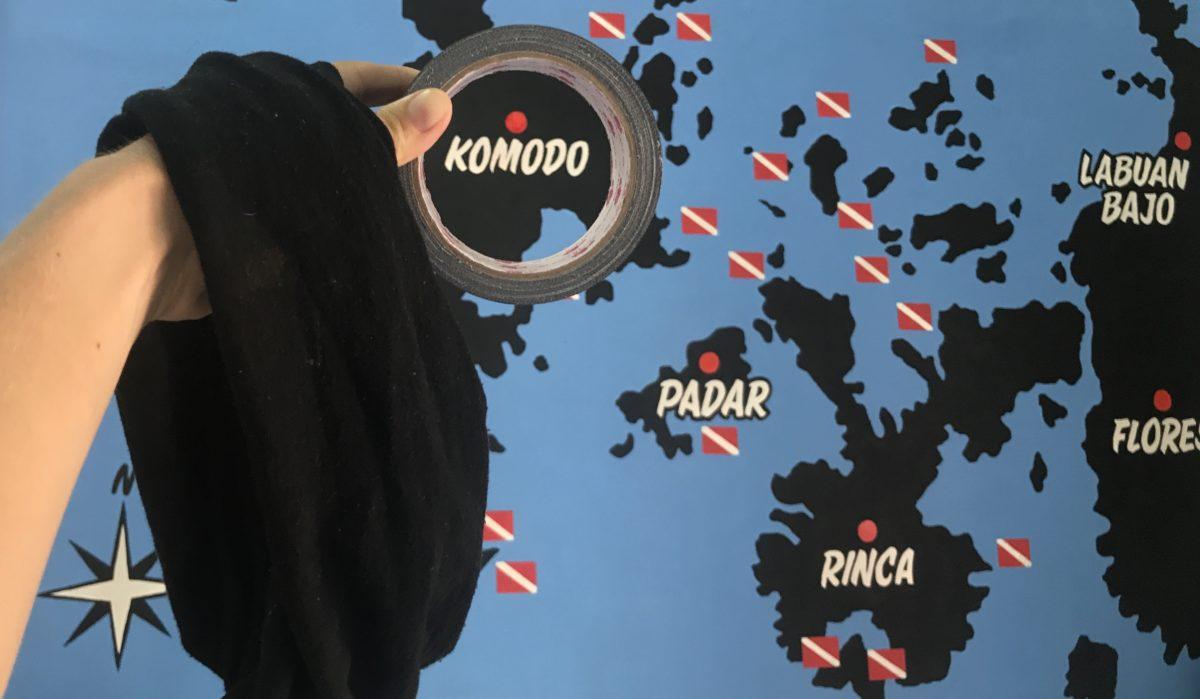 5. Duct tape
The best 'fix it in a pinch' solution. A lot of things that we take with us for dive travel can be fixed with a little duct tape, at least temporarily. If you don't want to bring a whole role, a thoughtful way to bring some on your next trip is to store some on your reusable water bottle! Just take it off the original role, wrap it a handful of times around your bottle and you have the perfect solution to those every day rips, breaks and scrapes. 
Travel and scuba dive the smart way
There are many places where you want to cut weight to your suitcases, but when it comes to making the most out of dive holidays, you more than likely want to get that right. These items are not only small but practical for dive travel and will make the difference when spending multiple days out in the ocean. 
Now that you have dive travel on the mind…
Check out the rest of our webpage and see why you should be diving in the Komodo National Park for your next vacation. Let our team at Azul Unlimited show you around one of the top dive destinations in the world!
Sarah Miller
IDC Staff Instructor #320212