Diving professionals get this question frequently. Can you dive with asthma? What dangers are involved with diving with asthma? In this article we will try to clarify some doubts both for those who have this medical condition and want to start diving as well as for diving professionals.
6 Different classes of asthma.
The first thing to identify is from which type of asthma do you suffer and which ones can be compatible with scuba diving.
Allergic asthma: usually triggered after exposure to allergic substances such as plant pollen, animal hair or dust mites.
Seasonal asthma: related to plant pollen and worsens according to the annual season.
Non-allergic asthma: due to irritating substances such as pollution, perfumes, paint smell, tobacco smoke, respiratory infections, cold air or sudden temperature changes.
Occupational asthma: related to substances in the workplace such as wood dust, metal, resins, etc.
Exercise-induced asthma: triggered by the practice of physical activity and may appear during or several minutes after exercise.
Night asthma: can occur in any of the above cases and worsens during the early morning.
The risk of diving with asthma.
What happens at the physiological level when you dive with asthma and suffer an attack?
Looking at the pulmonary level during one of these crises; your bronchial tubes narrow, thus impeding normal breathing. Within the activity of scuba diving, this change has two effects:
The amount of air entering and leaving the lungs is reduced. This increases during diving due to greater external resistance in breathing (ambient pressure and regulator) and an increase in internal resistance when breathing air at a higher density.
The reduction in diameter of the airways can leave air trapped in the lungs during the ascent. The expanding gas would, therefore, have difficulties in being released through these restricted airways.
The result of suffering an asthma attack during a scuba dive can be barotrauma due to bronchospasm. There is also the possibility of inhaling saltwater with breathing, as well as possible psychic stress that could favor bronchospasm.
The above, in turn, also increases the volume of intrathoracic blood and intrathoracic pressure which would favor the collapse of bronchioles, leading to a decrease in the flow in the small airways.
Asthmatic patients who use bronchodilators have an additional theoretical risk. These drugs are pulmonary ventilators, which decreases the capacity of the pulmonary filter of the passage of air bubbles to the circulatory system. This increases the risk of suffering an AGE: air embolism, among others (pneumothorax, subcutaneous or mediastinal emphysema).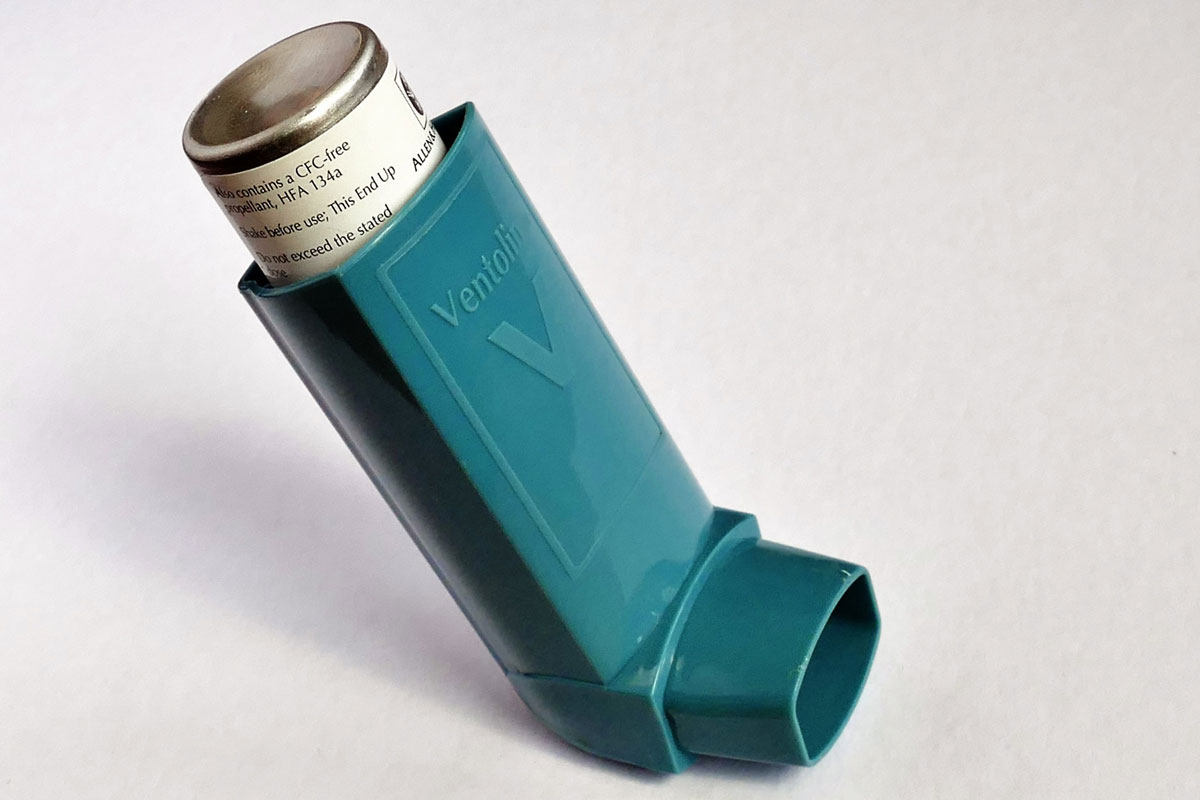 So, can you dive with asthma?
Some types of asthma are compatible with diving under very specific and controlled conditions.
People with a history of asthma in the past, but who are asymptomatic, without medication and have normal respiratory function tests may be able to dive.
People with asthma present, well-controlled with medication, with well-known triggers, and with normal respiratory function tests, may be able to dive.
People with exercise-induced asthma, cold-induced asthma or emotional factors should not dive unless their bronchial hyperactivity is controlled, respiratory function tests are normal and the stress test is normal.
The treatment of the four forms of asthma is relevant to determine its severity and, therefore, the associated risk of diving. The first three types of asthma, mild intermittent and persistent mild to moderate asthma, if well controlled, may allow rigorously controlled divers to continue diving.
Cataloging the risks of diving with asthma.
The following question helps to evaluate a diver with asthma:
It is mild asthma; or
Does the treatment work efficiently to prevent an acute asthmatic attack while underwater or on the surface?
If continuity of treatment can return lung function tests to normal, especially those performed after exercise, divers can be sure to dive and undergo the intense exercise they may need to perform during diving. Potential divers with asthma should undergo both an evaluation of lung function and an exercise test to measure the severity of asthma.
To find more information, check out the following website from DAN, an insurance program specialized in diving. There you will find articles on diving with asthma and other medical conditions including their relationship with diving.
The medical form
At the beginning of each dive activity, as a general rule, dive centers will have you fill out a medical form as clients. One of the questions is whether you have suffered asthma or are being treated. If the answer to this question is YES, it does not mean that you cannot dive. This just means that you will need to visit a doctor to be assessed and signed off as 'fit for scuba diving' before jumping in the water.
If you are a dive professional, remember that you are NOT a doctor. You cannot take the responsibility of taking a person with a YES on their medical form without the approval of a doctor!
Although there is information out there on diving with asthma, it is not detailed enough in order to make healthy judgment calls on your own. Each case and person is unique, so you ALWAYS go to a professional to ensure that the type and intensity of asthma are compatible with diving.
As professionals, if in doubt, consult your diving organization with specific questions. They will be able to guide you to the correct resources. 
Don't forget to leave your comments below or write directly to our email [email protected] for more information.
Aitor Diaz
PADI Course Director #285713