The Komodo National Park is a place known for spectacular dive sites. It's one of Indonesia's most famous dive destinations and is one of the top dive destinations in the world. If you're a diver, Komodo National Park should definitely be on your bucket list. Divers generally know of Komodo because of its strong currents and manta rays. Divers familiar with the park also know that the corals are vibrant and give a home to a wide variety of marine life. In order to keep it that way, protection for oceans, national parks and, specifically, dive sites is a must. Especially since travel destination areas are developing rapidly and tourism is increasing.
What's the deal with Batu Bolong in Komodo?
You might have heard of Komodo's famous dive site, Batu Bolong. CNN rates it at the 27th best dive site in the world. The name, Batu Bolong translates to hole in a rock, which is literally what you see when you arrive to the dive site. Batu Bolong is located in the central part of the Komodo National Park. It is a pinnacle in the middle of the Lintah Straits, between The Flores Sea and Indian ocean. The location is optimal since constant movement of current brings in nutrient rich waters for marine life. 
When you dive at Batu Bolong it's like jumping into an aquarium. It's possible to see everything there: a healthy reef with colorful soft and hard corals, small creatures like nudies and shrimps as well as bigger creatures like humphead wrasses, hawksbill turtles, barracudas and sharks to name a few… 
Batu Bolong can be challenging because of the currents around it. Because of these difficult conditions, before entering to this spectacular dive site, it's important to have a proper (Advanced) level of training (or skill/experience) to be able to stay close to the reef without crashing into it. Good buoyancy is the key at all dive sites, but especially in ones with current.
Why Batu Bolong Komodo needs to be protected?
Komodo National Park has around 120 000 annual visitors and many of them are divers. There is certain capacity of people that a small dive site like Batu Bolong can handle on daily basis. Luckily, now there's a regulation set up for Batu Bolong in order to protect it for the future.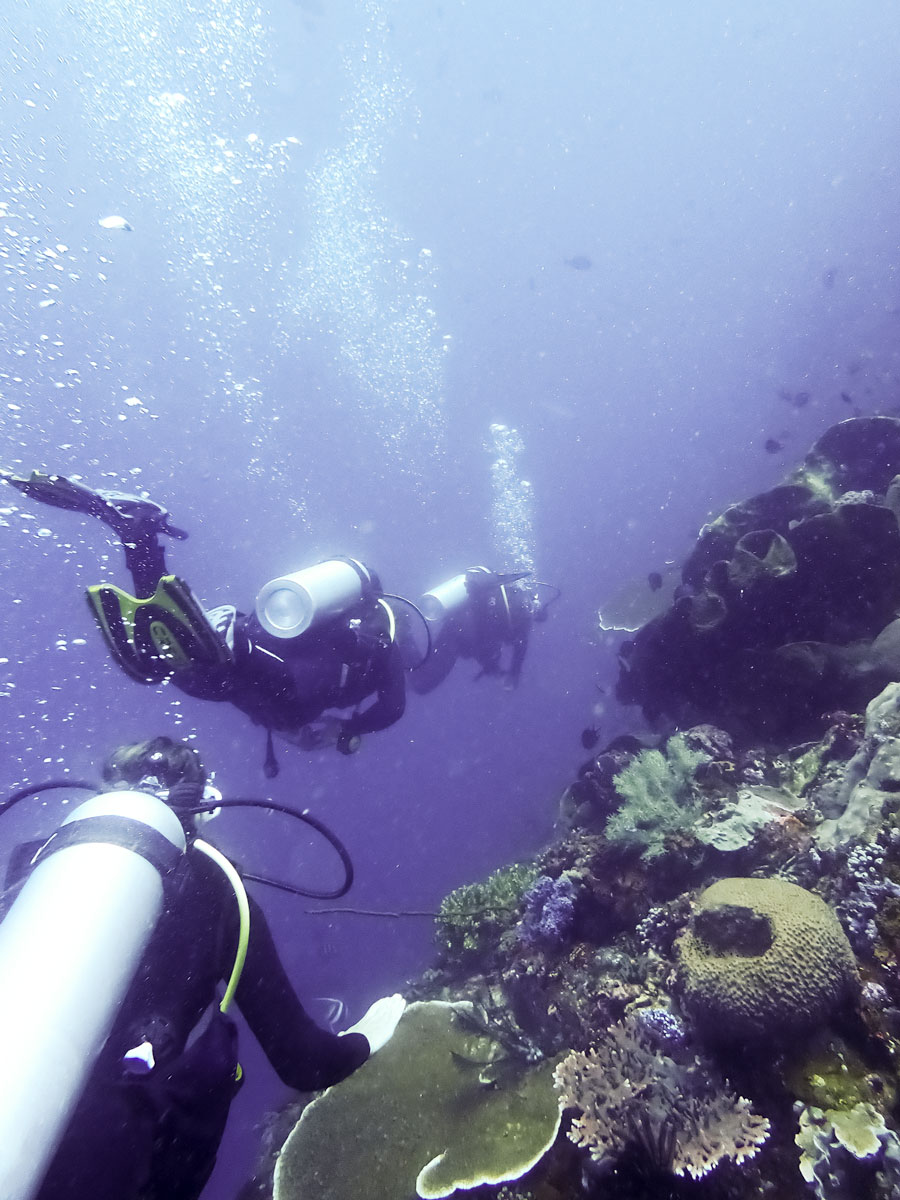 What is the new carrying capacity regulation?
In 2019 a new regulation has been implemented for Batu Bolong. Now, there is a limited number of dive boats allowed on the dive site per day and snorkelers can no longer swim there. Each boat can bring their maximum capacity of divers to the dive site during their slot, which means if you go with a large dive shop, there is a good chance you will still be diving with many other people. Currently, in November 2019, these numbers are still in trial period and may change in the future depending on the data collected during these trials. 
How does this affect you and your dive trip to Komodo National Park?
The number of slots per month for dive operators are limited. You should keep this in mind when you're planning your dive trip to the Komodo National Park. If you have a certain day in mind when you want to dive at Batu Bolong, your chosen dive operator needs to know beforehand in order to reserve the spot.
Interested in diving there? Email us your travel plans so we can help you arrange your diving days.
Prevention instead of reaction: the key to maintaining reef health at Batu Bolong
Before the regulations were set on Batu Bolong, the dive site was constantly packed with people every day. There were a lot of boats and divers around all the time and this created hazardous situations at the surface and 'traffic jams' underwater. Too many divers at Batu Bolong (or any dive site for that matter!) means too many fins in too little space, which sometimes leads divers to touch corals unintentionally while trying to dodge others. Marine life also gets stressed with too many people present all the time and will disappear if they feel harassed by divers. More fish, less fins please.
As you probably know from other famous tourist hot spots, the place starts to suffer when too many people are bustling about. For example, even some famous islands like Ko phi phi in Thailand or Boracay in the Philippines have been closed from tourists for awhile to let the places revive. The idea is to not have to go that far and to preserve Batu Bolong before it's too late. 
No, the National Park is not closing!
Tourists are still more than welcome to come to visit the national park and dive here. Although there has been a lot of misinformation about the Komodo National Park closing, it is not true. Now it's just necessary to do some smart organization so the dive sites can continue to thrive. Not every dive boat has to be able to go to Batu Bolong everyday. There are many other beautiful dive sites, at least 15 easily accessible places to choose from. This way, by rotating different dive sites regularly, less damage is made to the sites and it makes the diving more interesting to everyone. 
It's so important for all national parks that these kinds of regulations are set. Maybe there's still some fixing and fine tuning to be done with these particular regulations, but so far, it has been a good start. These steps are heading in the right direction towards trying to preserve the Komodo National Park and Batu Bolong for future generations. 
Who has been a key player for helping Batu Bolong and the Komodo National Park?
Dive Operators Community Komodo (DOCK) and WWF have an important role in Komodo. The goal? Protecting and preserving the beautiful National Park, marine environment and surrounding areas by advocating for ocean conservation, safe diving practices and professionalism. They have an important role in Labuan Bajo, Indonesia by setting common guidelines for dive operators to follow. We, here at Azul Unlimited, are happy to be a part of DOCK because it is crucial to work together in order to reach common goals. 
Thanks DOCK and WWF! We have a lot of good things going on.
Batu Bolong is an official Azul Unlimited Adopted Dive Site!
As a dive shop, we want to do everything in our power to protect our incredibly beautiful, but fragile playground. Azul Unlimited has taken action for Batu Bolong and adopted the dive site through Project AWARE. This means that our team goes out to monitor the dive site with monthly Dive Against Debris survey dives and reporting the results back to Project AWARE. You can read more about it from here.
As a divers we should all be ocean advocates, so let's work together to protect what we love.
Laura Rasku
OWSI #436843
Scuba adventures on YouTube!
Subscribe for silly, educational scuba diving videos–totally free and designed to help all of our students wherever they are in the world. Ask your questions in the comments below each video to get direct answers from the Azul team.