Combining the sidemount configuration with a dry suit for scuba diving.
Welcome to episode 02 of my DIVE DRY ROAD TRIP. I went for my first dives in the ocean with my sidemount configuration and drysuit combination. In this video, I shared some logistics of diving in the Hood Canal and what I'm learning with this new set up.
I'm not going to lie… I had quite a few problems on my first dive post drysuit certification. Between sidemount malfunctions and my struggle with drysuit buoyancy I was a mess. I learned a lot.
First dive site in the Hood Canal: Octopus Hole.
Octopus hole is only 3.3 miles north on Highway 101 from Hoodsport, Washington.
This dive site is made up of two parts. A deep wall straight out from the parking lot and a shallow wall closer to shore. There are lots of nooks all along the wall where you can find the famous Giant Pacific Octopus. Look for bodies of crabs and use your torch to look inside nearby holes and cracks.
When shore diving, you should bring a float with a flag. You'll have to look up regulations for the dive location where you are because some are very strict about how far away from your dive flag you are allowed to be. Of course, it's hard to judge that underwater unless you know your timing VS kick cycle distance, but you want to do your best to follow all regulations in any given area.
The wonderful thing about these dive sites is that conditions are perfect for sidemount. It's easy to take your tanks down, stage them, and then attach them in the water. There are no waves, so the process of kitting up is simplified.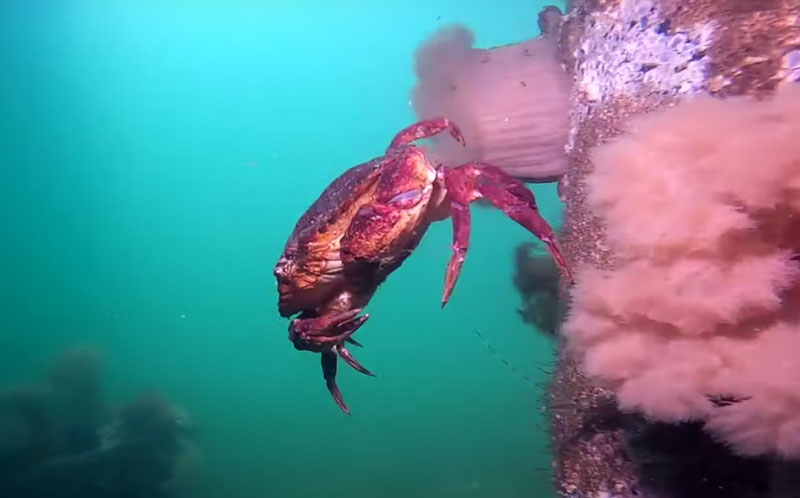 Second dive site in the Hood Canal: Hoodsport Pier
The next dive site for the day was an easy one. I went to the Hoodsport pier for a simple, shallow dive to work on my buoyancy and video skills. You go in right next to the dive shop, and there are several small sunken boats to explore right next to the pier. Make sure to place your dive flag in the shallows to warn boaters of your presence since the dive site is literally right where boats come in to dock.
Camping around Hoodsport, Washington
There are forest roads outside of town, or if you are in a pinch, you can use the larger pullouts on Highway 101 for a noisy but OK night of sleep. I also had good luck staying at a church parking lot, but anytime you stay in an urban area, you need to be courteous to the locals and preferably get out early before anyone needs the space.