To be honest, until just two years ago, I spent hours browsing Facebook diving groups trying to find useful and interesting information. It didn't take long for me to realize how toxic the diving community is on Facebook, where everyone knows more than anyone else, and everyone who asks is treated as ignorant and someone who should never dive! Then it occurred to me to open a new tab and type Youtube Channel and Diving … and a whole world of possibilities opened before my eyes!
Organized information.
The first thing you realize is the organization, unlike Facebook groups where everything is lost between absurd memes and hateful comments, on YouTube, you find exactly what you need with a single search.
This is an incredible advantage and if you find a channel that you like, you will be lost in it for hours. The problem with some of these channels is that they were too specialized…. Photography (and not for beginners) Video, technical diving, etc.
What's missing from Youtube.
I soon realized that there was a very big gap for most divers who were just starting. Those same people who are humiliated in Facebook groups for asking the most normal things in the world. But I also realized that YouTube and diving is not synonymous with bullies in the comments section, there were "real and kind people" behind those comments.
What if we fill that void?
So the idea of ​​opening our own YouTube Channel and Diving began at the same time that Azul Unlimited was taking shape here in Indonesia.
We give recreational diving courses, yes, but also professional training, although everything revolves around the conservation of our planet. So what are we going to specialize in on our YouTube channel? Well, let's talk about everything a little!
How ideas are born.
We were working very hard in Indonesia to build our dive center, Azul Unlimited. A thousand ideas passed through our minds and one of them was to hire instructors, but how much are we going to pay them? Bom !! First video of the YouTube channel, Salary as a diving instructor. We recorded it on the beach, near the town, with a terrible sound and a beach full of plastic…. and Booom !!, our second video is already there, products to use less plastic !. And so we begin to link one idea with the next.
How far do we want to go?
When you start, it's already hard to stop. Comments come in from people who watch your videos, ask you questions, and ask you to tell them about buoyancy, how to improve air consumption, flapping techniques, etc. And you end up feeling that what you do makes a difference and helps people, they ask without fear and other divers always answer them with something positive.
So the answer is clear, we want to reach as many divers as we can with any level of training! Whether for beginners, professionals, or passionate about identifying marine animals…. in our channel we accept everyone!
How far have we come?
Well, it seems a lie, but two years and 41 videos later we are already 2000 people in our community !! A community that grows day by day and we cannot be more proud of them. An open, sincere, friendly, and knowledgeable community waiting to be shared.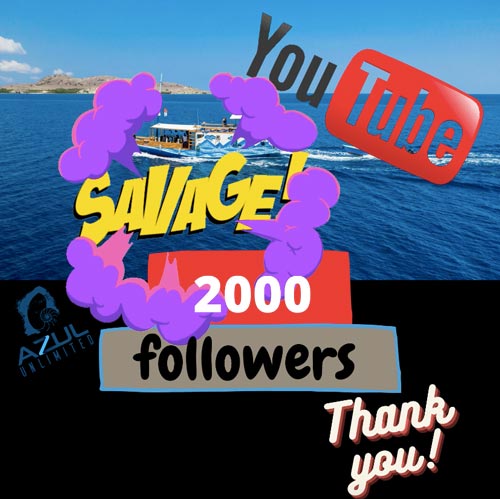 Who we have met along the way.
Not only has our community of followers grow, but along the way, we have met people who are passionate about diving and sharing what they know. Collaborations with other channels make us stronger, they connect us with different parts of the planet, people with other points of view who contribute a lot to the community.
Friends like
Although here you can find a selection of the 30 best YouTube Channels and diving!
 And we have sponsors !!
Some companies trust us and we trust them. Sponsors help us keep our channel alive with a small financial aid. Some of these sponsors are:
 Short-term plans
For the next few months we have some very interesting projects, collaborations that include diving with a great white shark, dives to do before we die and some more surprises including a Give-Away for when we reach 10,000 subscribers, so if you are not yet part of our community, What are you waiting for!!
From Azul Unlimited we want to thank you all for your support, you are the reason that our YouTube Channel continues to live and grow. Thank you very much for all!
Aitor Diaz
PADI Course Director and apparently Youtuber