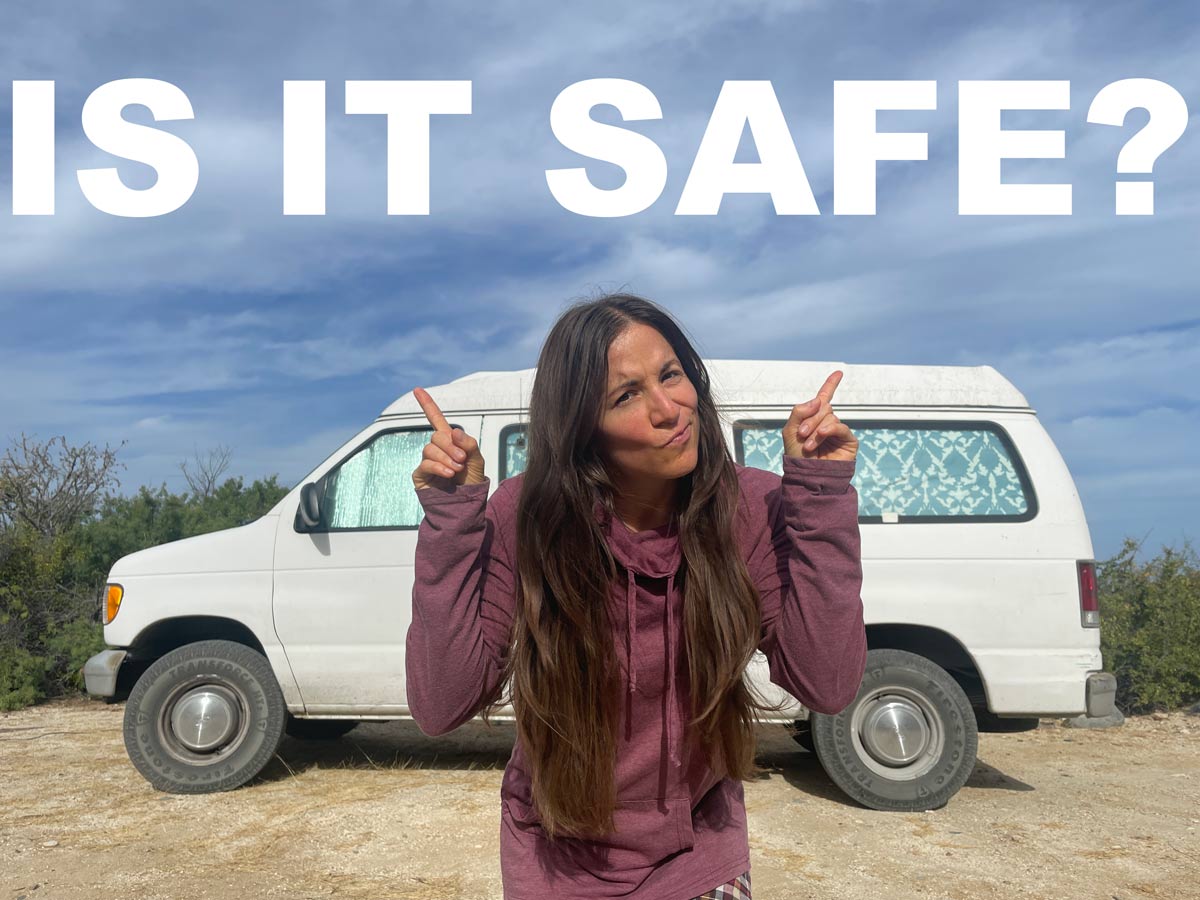 Van life in Baja, Mexico
As a solo female traveler, I was warned over and over again about taking the long road trip down to Baja. All of their comments concerned me at first, but everything changed when I got on the road in my trusty van Ariel.
I got to experience the full beauty of Baja. But… let me tell you, it wasn't all rainbows and butterflies. It was definitely a winter for the books.
If you want to see what I got up to, you can check out my VOLVER A MÉXICO series on YouTube.
And if you'd like to join me for future scuba diving expeditions, check out my upcoming trips!
Safety as a solo female traveler in Mexico
Initial apprehension about my safety quickly went to rest as I traveled around speaking with the locals. I lived in Mexico several years ago (in the Yucatan), and speak fluent Spanish, so it took no time for me to connect with the people of Baja.
I felt comfortable traveling alone. I shared a video from a military checkpoint that got over 4 million views on TikTok, and many people say I was too comfortable. I've removed it from that platform because I got tired of the negativity, but you can still see the video on Instagram.
Police in Mexico
There are corrupt police, but knowing how to deal with them is key. If you get pulled over for any reason, don't bribe them. It can be tempting to get out of the situation and be on your way, but this is why there is an issue with cops and foreigners in the first place. Ask them for an official ticket and how to pay for it at the local police office. They usually don't want to bother with all that paperwork, especially if you weren't actually breaking the law.
If you get the knock in the middle of the night, do not get out of your car. I had this happen once, and they wanted to inspect my vehicle. They have no reason or right to do that, so just say no. Tell them you're a tourist and not breaking any rules by camping on the beach. When this happened to me, they left after I said no several times. I did move to a different spot that night just to be safe, but it was the only time I had a weird incident while in Mexico. And actually, my only other interaction with the cops there included a couple of guys fixing my van to get me back on the road!
Of course, it is always important to exercise caution when traveling in a foreign country, but overall, I found Baja to be a very safe and welcoming place.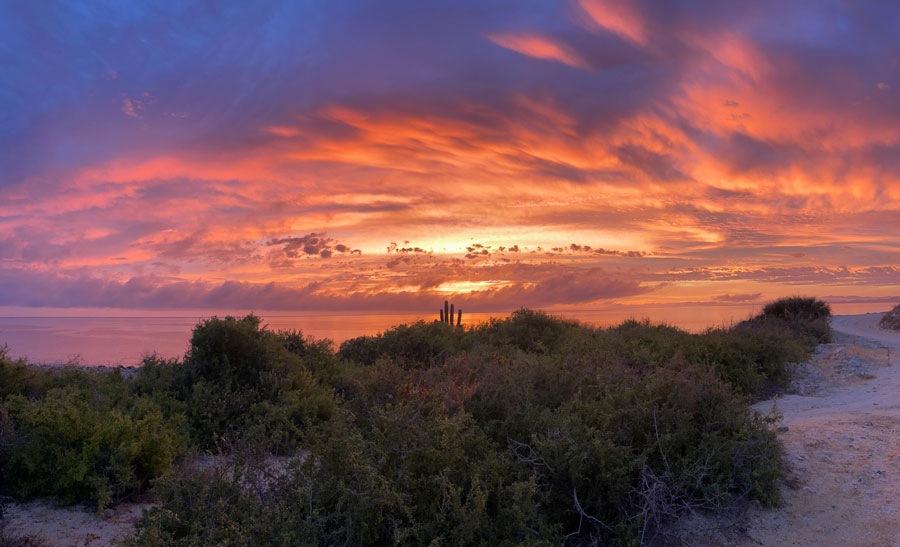 Baja and the scenery
Driving through the desert was absolutely breathtaking. The vast expanses of sand and cactus were interrupted only by the occasional towering rock formations or mountains in the distance. I could hardly believe that this beautiful landscape has been so close to my home in California, and yet, I had never visited.
Scuba diving around Baja
As a scuba diver, I was thrilled to discover that Baja had some of the best scuba diving in the world. Cabo Pulmo was definitely the highlight of my trip. The reefs were absolutely stunning and teeming with life. If you're lucky (and have the Advanced Open Water certification), you might even spot a whole bunch of bull sharks!
Other great dive spots include Cabo San Lucas (photographed below: hammerheads in Gordo Banks), San Jose del Cabo, La Paz, and I'm told Loreto is also quite nice.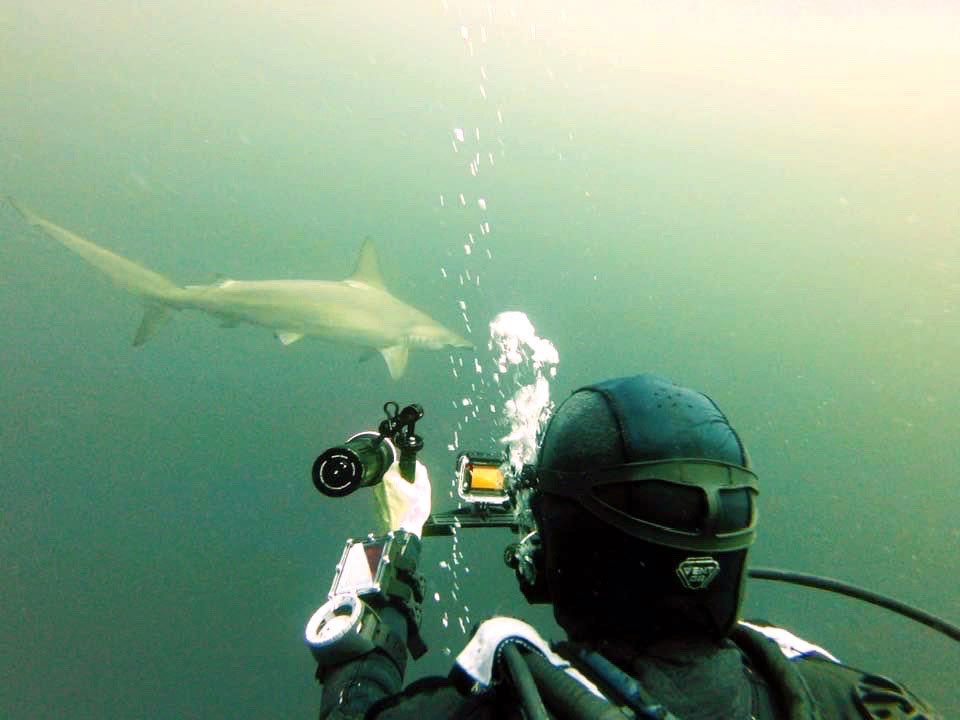 A few things to note:
There are little to no shoulders on the main roads, so having a breakdown can be complicated. Get a full tune-up on your car before hitting the road.
There are long stretches without any services, so don't roll the dice when deciding where to fill your gas tank.
The military checkpoints can be intimidating at first because they carry guns and will ask to step inside your van to look around. They are doing their jobs, and many are just bored young men.
Cell service is limited in a lot of the most beautiful places, but with the upsurge in roaming Starlink customers, you can usually bum signal off someone.
Fresh water is available in towns at places called agua purificadoras. Many only refill the 5-7 gallon garrafones. You may be able to refill your larger tank by dumping the containers into your fill valve, or you can get your water from places that have hose connections. Check the app iOverlander to see what's available in your area.
You can get your propane refilled at Caligas for a really cheap price. There are also small green camping canisters available in some stores, but they do tend to sell out. I would bring enough to last you the whole trip.
One of my favorite parts of the trip was discovering all the incredible campsites. From the stunning beaches to the quiet mountain retreats, there was no shortage of gorgeous places to park my van for the night.
Recommended campsites:
Northern Baja
Ensenada
Alisitos (N 32°7.405′, W 116°53.161′): Basic campground good for your first night in Baja or the night before you cross back into the States. Bathrooms and cold-water showers are available.
Villa de San Miguel (N 31°54.082′, W 116°43.771′): Basic campground located a little closer to Ensenada. Bathrooms and cold-water showers.
Resource refill in Ensenada.
Heading toward the Sea of Cortez…
San Felipe
Puertecitos (N 30°20.986′, W 114°38.431′): Expensive campsite, but has direct access to hot springs, which are only accessible around low tide. I've heard cleanliness can be hit or miss.
Staying on the Pacific side…
Last spot on the Pacific
Arroyo Amarga (N 30°11.872′, W 115°47.630′): Great, cheap campsite with electricity included in the nightly rate. Will definitely stop here again. Non-potable water, but no showers. Pit toilets.
Southern Baja
Resource refill in Guerrero Negro.
San Ignacio
Camping Petates (N 27°17.792′, W 112°53.894′): Campsite right next to the water. May have mosquitos during wet seasons. Toilets are available, but no showers. Peaceful spot. You can take a stand-up paddleboard or kayak across the main road to cruise up the water oasis.
Resource refill in Mulege.
Bahía Concepción
Playa Santispac (N 26°45.839′, W 111°53.278′): Very, very popular campsite. Lots of longtimers (RVers) on this beach. There is wifi available at one of the restaurants, and plenty of the 'locals' offer Starlink service for around $2 a day. No showers.
Playa Los Cocos (N 26°44.582′, W 111°54.023′): Smaller campground full of van lifers and digital nomads. Small palapas are sprinkled down the beach. Pit toilets are available.
Loreto
Playa Juncalito (N 25°49.846′, W 111°19.480′): Easy to get to, but don't go too far down the beach if you don't have 4-wheel drive. No amenities at this beach except trash cans, but this is a totally free spot with some gorgeous mountain views.
I especially loved Loreto, where I spent my days hiking and stand-up paddle boarding. The water was also nice enough to explore while freediving, so I plan on heading back there for scuba diving in the future.
Resource refill in Loreto.
Puerto Adolfo Lopez Mateos
Whale watching parking lot (N 25°11.846′, W 112°7.282′): Stay the night before joining a boat trip in the morning. There were very clean bathrooms but no showers.
La Paz
Playa Pichilingüe (N 24°17.113′, W 110°19.762′): Right next to the ferry. Many van lifers stay here before crossing to the mainland. No amenities except trash cans, but the spot is free. This can be a noisy place on the weekends.
Playa Tecolote (N 24°20.245′, W 110°18.616′): A little further out of town, but worth the trip. This is a free beach and there are bathrooms at the restaurants. This place gets super crowded. Weekends are the worst, but you can get away from the hustle and bustle by getting out to the water or going for a walk. Playa Balandra is close by. Visit by car, or launch your kayak/SUP board from another beach nearby to visit one of the best beaches in Baja.
Resource refill in La Paz.
La Ventana
Natural hot springs (N 24°7.093′, W 109°59.963′): No services, free campsite with direct access to hot springs at low tide. No cell reception.
Los Barriles
Multiple spots outside of town (N 23°45.091′, W 109°42.684′): Get away from it all. There are great, free campsites here, but plenty of people pass by on ATVs throughout the day, so it may not be totally 'away from it all.' There are some good shallow-water snorkeling, and the sunrises are to die for.
Cabo Pulmo
Rocky beach camping (N 23°26.640′, W 109°25.597′): Perfect spot to hang out for a week. No amenities, but walking distance to restaurants and dive shops.
Los Frailes (N 23°22.841′, W 109°25.933′): Honestly, I wouldn't go here again unless I was in a 4×4 vehicle. I got majorly stuck in the sand. It was beautiful, but just be warned. Also, no services available here.
La Fortuna
Loads of beach campsites (N 23°7.349′, W 109°31.541′): I loved this spot to hang for a week. Donkeys, cows, and horses roam through the area. No services.
San Jose del Cabo
Playa Palmilla (N 23°0.616′, W 109°43.017′): Quieter than Playa Costa Azul. Portapotties were available at the time I visited. I believe bathrooms were getting worked on. Cold outdoor showers are available.
Resource refill in San Jose.
Cabo San Lucas
Playa Santa Maria (N 22°56.020′, W 109°48.895′): Stayed here several nights while scuba diving in Cabo San Lucas. Potable drinking fountains, running water toilets, and cold water showers are available. Good snorkeling outside of the bay as well.
Resource refill in Cabo San Lucas.
No trip to Baja would be complete without a visit to Cabo San Lucas. The scuba diving there was phenomenal, but I was surprised by the wild nightlife. You can avoid it by steering clear of the marina. However, there were a lot of great restaurants to explore. I did a lot of urban camping in downtown Cabo, and it was OK. Lots of drunken nonsense, but you can find quiet spots.
Todos Santos
Playa los Lobos (N 23°24.892′, W 110°13.813′): A nice spot to stay, especially if you are checking out the beautiful hikes nearby. No services.
Todos Santos offered an unforgettable experience-visiting the baby turtle sanctuaries. Watching these tiny creatures make their way to the ocean was a truly magical experience.
Resource refill in Todos Santos.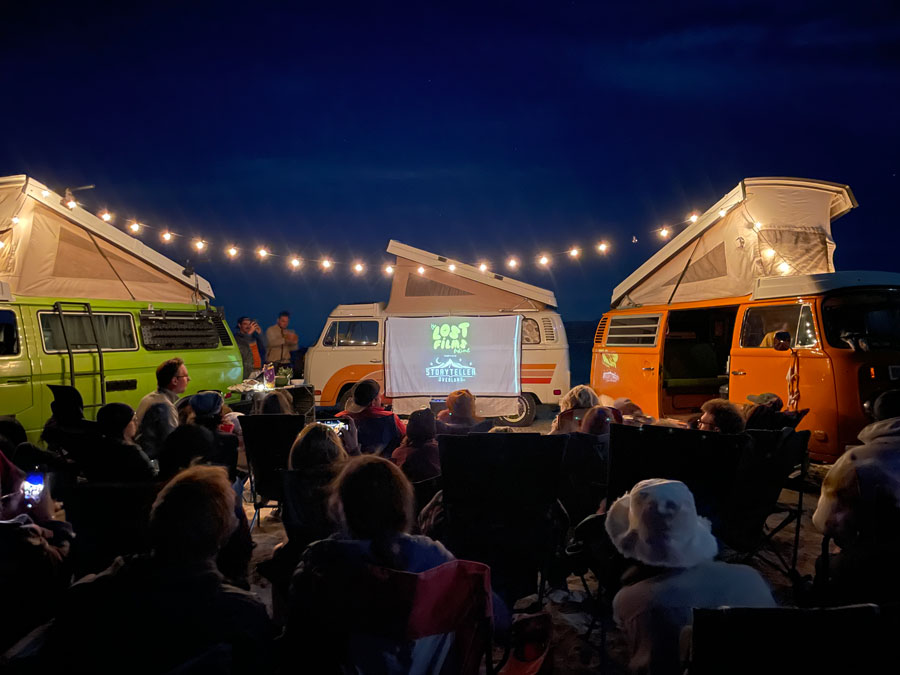 The Baja van life community
One thing I loved about driving down Baja was the bustling van life community. It was so great to meet other travelers and share stories about our adventures.
Being a responsible and respectful traveler
However, it is important to be a responsible van lifer and tourist in the area. This means respecting the local people, land, and Mexican culture. It also means being mindful of your impact on the environment and leaving campsites cleaner than you found them (this includes toilet paper!)
See you there one day?
Overall, my trip down Baja was an incredible adventure. I highly recommend it to anyone interested in a unique and unforgettable travel experience. Just be prepared to fall in love with the desert and all the incredible things it has to offer!
Join me on upcoming Azul Unlimited dive expeditions