Our goal with this new series of blogs is to tell you all about the diving spots in the Komodo National Park but from a more personal and practical perspective.
Many diving center websites in Labuan Bajo or Liveaboards in Komodo share descriptions about the main dive sites, but from my point of view, descriptions should be accompanied by more feelings and emotions in order to transport the reader under water and see for a moment through the eyes of the writer.
There's something here for everyone!
Luckily, there are many diving spots that the Komodo National Park offers and the vast majority are excellent; some of the best diving in the world. I will select two or three points for each blog including some real details rather than a simple, generic description.  
Warning!! Many times I get excited and I love storytelling so get ready to dive in deep and imagine these places as I have lived them.
Safety First
Note: Each time you visit a Komodo diving spot can be a different experience because of the influence of the strong currents here. The days close to full moon and new moon cause the currents to be particularly strong. Therefore consult your dive shop about conditions and share your diving experience before getting your heart set on diving a specific dive point.
Two Classics from Central Komodo
Let's start talking about Komodo Central and for this occasion I have chosen two of my favorite dives; Karang Makassar (Manta point) and Tatawa Besar.
Manta point:
This site is famous for the amount of manta rays that congregate along this shallow plateau. Sometimes you can get lucky and see more than 100 specimens! Because this is a large, drift dive site, you will be able to travel the entire coral platform effortlessly. The landscape is very peculiar (it seems taken straight from a Mad Max movie). Coral debris (dead coral pieces) covers this plateau, but is also dotted with small pinnacles of hard and soft coral where aquatic life is concentrated. During this dive, you will be letting yourself go by jumping from one cleaning station to another, where the mantas are gathered. Here, the cleaning fish do their job of deworming these large pelagics and you can hang out for the show. This place is perfect for divers of advanced level although depending on the current may be suitable for divers with less experience and good control of their buoyancy.
Other inhabitants of this incredible dive site are the eagle rays, marble rays, bamboo sharks, white tip and black tip reef sharks, unicorn fish, hawksbill turtle and many more. As a personal recommendation, do not forget to look closely at the coral! Nobody notices the small details when so many big creatures are around, but Manta point is full of small surprises for macro lovers.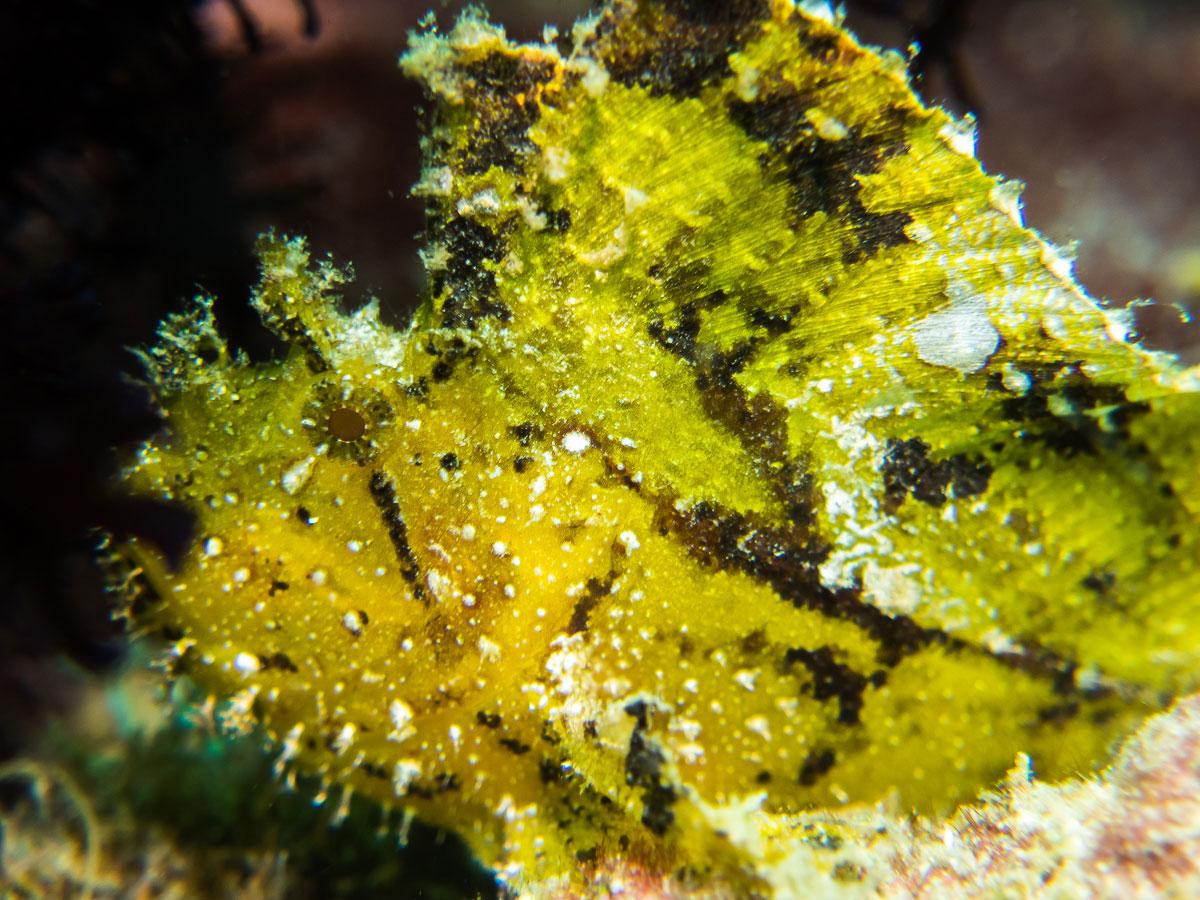 Tatawa Besar:
Fasten your belts because the current can get very intense on this drift dive!. You'll feel like you're flying when you sign up for this dive, which runs along the entire side of the island of Tatawa Besar. Normally it is done in Falling Tide(when the tide goes down). The highest concentration of marine life is located between 8 and 20 meters deep so this dictates the dive profile normally used here. Endless hard coral platforms, orange sponges and small overhangs or caves make this dive an incredible experience. Giant Trevally schools, sergeant fish, sweet lips, reef sharks and angel fish are the usual inhabitants. You can even find crocodile fish, octopus, small prawns in whip corals and nudibranchs resting inside the small overhangs.
The dive ends in a protected area from ​​the main current stream. Normally the last part of the dive are spent here relaxing in the coral garden, looking for Mandarin fish, orangutan crabs, hairy lobsters in the barrel sponges (professional secret) and other small creatures.
In normal conditions, this dive is suitable for all levels, although on some days of the month it is only advisable for experienced divers.
This is just part 1 of the best dive sites in Komodo
Little by little we will be publishing more information about the dive sites of the Komodo National Park. Meanwhile I wish you good dives to all and do not forget the most important thing when diving in new environments: your own reality check!
Here are some questions that will help you:
Do I have the level necessary for this dive?
Do my partners have the level necessary for this dive?
Are the conditions favorable for diving safely?
Does the dive operator have qualified personnel and all the security elements in case of having an unforeseen event?
Do I have the necessary equipment for diving? Example: a surface buoy for diving in current (and do you know how to use one?)
I know I have the necessary level but … Am I feeling good today (physically and psychologically speaking) to enjoy this kind of diving?
These questions can help you avoid having a difficult dive or bad experience in the water. Here in the Komodo National Park, you can find dive sites for all preferences and levels so let's get ready to dive!
Saludos.
Aitor Diaz