The scuba diving mask is usually one of the first things you want to buy for your diving equipment. The scuba mask must fulfill the fundamental mission of isolating the eye from direct contact with water while creating an adequate air environment to promote proper visibility.
Choosing the right mask is an important part of diver comfort and safety. It is usually the element of the equipment that causes the most complications in dives (flooded masks) and can ruin your day in the water. 
Therefore, try to pay attention to some essential factors beyond the shape and color of the scuba diving mask you are considering.
Currently, there are a large number of models and brands at your disposal, so it can be difficult to make a decision.
Check out the considerations below which will help facilitate your choice.
What requirements should your scuba diving mask have? Characteristics and Materials.
Before choosing the mask that best suits your physiognomy, decide on necessary characteristics that you are interested in such as:
Tempered glass (never plastic): This type of glass prevents shatter when it breaks, which undoubtedly is safer for your eyes. This material is scratch-resistant and offers much better performance against fogging. Plastic, on the other hand, is not a good investment and will force us to spend more on a better model later on.
Cover eyes and nose: they must have an end (part of the mask that is fixed to the face) safe and comfortable that encloses the nose to equalize the air spaces and compensate for pressure changes. This part should completely wrap the eye area, without leaving any opening facilitating a good field of vision.
Frame made of premium silicone (for a perfect fit): Silicone is a soft material that easily adapts to the face and lasts a long time. Avoid rubber and plastic. These types tend to easily harden and crack. The strap must have ribbed ends to prevent it from sliding and losing fit. The edges in contact with the skin should be soft while firm, to fulfill two purposes: to not damage your skin and avoid water entering the mask.
Types of scuba diving masks
We can find several types of diving masks, each type with particular characteristics that make them more recommended for certain situations.  The types of masks that we can find in the market are:
Single glass masks: These types of single-glass models generally offer a greater field of vision than two-glass models, and since they lack union between the two eyeglasses they tend to be less annoying on the bridge of the nose.
Two-glassed masks: They are the most common models. They generally offer less space between the glass and the eyes, thereby improving vision and sharpness through them. Besides the glass in many models is interchangeable by graduated lenses.
Frameless type masks: These types of frameless models are increasingly popular thanks to their reduced weight and low space between the glass and the eyes, offering an excellent degree of sharpness. In addition to the lack of frame, they are very flexible so you can store them in very little space. These are great as spare masks.
Apnea masks: These masks minimize the internal volume to allow for easier compensation and therefore less air consumption while descending.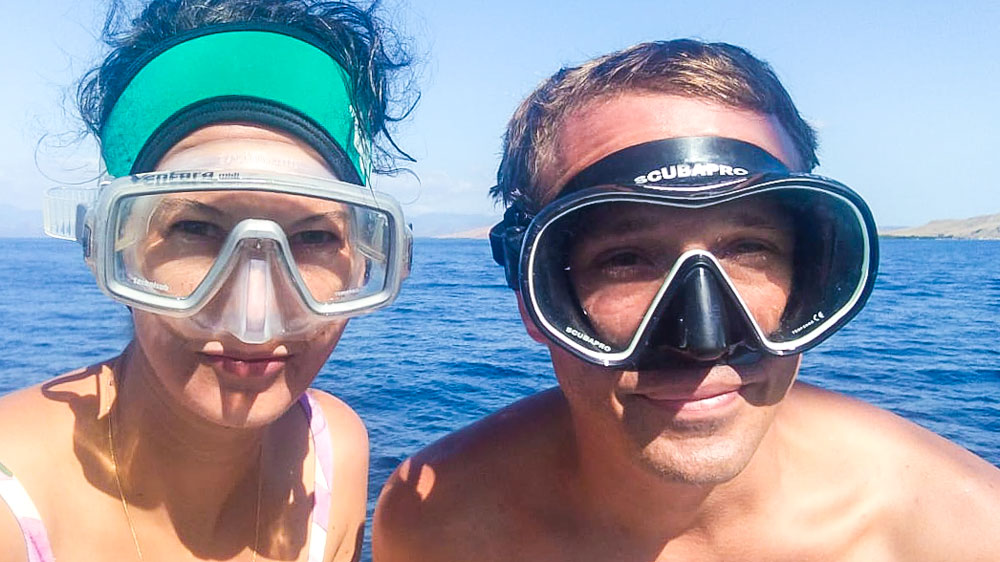 The ideal fit
Once you decide on the materials and type of mask you are interested in, you need to focus on the fit. If the water constantly enters the mask, it fogs up, hurts some part of your face or does not allow you to compensate properly, your dives will be disastrous.
In general, you can perform the first test to see if the mask fits well to your face. For this, place the mask to your face without using the strap and inhale through the nose. The mask should stick to your face. This seal should not allow air to enter or seep out. Then, with the strap on, check that you can pinch the nose with the thumb and index finger without deforming the rest of the mask, or causing any air to escape or enter into it.
You should not rely solely on this test to prove that the mask seals well out of the water and will be your size. When testing the mask you should ensure that the silicone of the mask does not bend and that it sits properly on both the forehead and the cheekbones. The seal shouldn't be too close to the lips because underwater you will have a regulator in your mouth and that will affect the seal as well.
Once you have checked these points and confirmed that the selected model does not bother the mouth, next is to look at the bridge and the base of the nose. If you notice that it rubs in that area, it is highly likely that during a dive the water pressure will only make it more uncomfortable.
Finally, having checked all these points, you must move your head around. Look both ways, up and down and check that you are comfortable with the field of vision offered by the mask. If so, it is safe to say you have a good mask choice. 
As a general rule, low-volume models offer a greater field of vision but these types of models are not suitable for all types of faces. If you are looking for a large field of vision, try single-glass models with side or low-cut windows that will normally offer a greater view range.
Other tips
In addition to all of this, it is worth knowing some tips for the correct mask use:
To avoid glass fogging due to the difference in temperature between the outside and inside of the mask, before putting it on, spit inside and then rinse. If you do not like to use your saliva you can always use other means such as special soaps or just dishwashing soap.
Do not over-tighten the mask, since the only thing you will gain will be headaches and skin marks. Also if you put it on too tight you can deform the shape of the mask, creating water leaks.
When it comes to getting a correct seal with your mask, it is important to check that you place it correctly centered on our face. Make sure you put the mask strap on correctly. If it is too high it will tend to lift the bottom of the mask while if it is too low it will affect the top of it.
It is possible to get prescription lenses! This allows you to get rid of contact lenses during dives. It is very annoying to wear contact lenses and they can cause problems underwater.
Happy mask shopping!
See you soon and Buen Azul
Sergio Palazuelos Leon
PADI MSDT # 345513