Since technology has advanced, it is becoming easier to reach a new place and do prior research on the best restaurants in the area. There are many restaurants in Labuan Bajo so here is the 'cannot miss' list for the culinary part of your trip. Even if you are not one of those who plans everything before arriving, you will have this list as a reference for some great eats in town.
We all know about the different websites like TripAdvisor and Yelp that help us make choices on things like restaurants. Although these can be great resources, a few months ago I saw the video on YouTube where a person managed to cheat one of these pages. They ended up taking the number 1 spot of the restaurants in his city without even existing! 
So how much strength does the voice of many have? Do we allow ourselves to be influenced by the biased opinion of another individual without exercising personal criticism? The honest answer is yes, so it is best to use reviews and opinions as a guideline, but choose with your own discretion! 
With that being said, I have eaten in many restaurants in Labuan Bajo since moving here so below is a list of my favorites for all budgets and food cravings.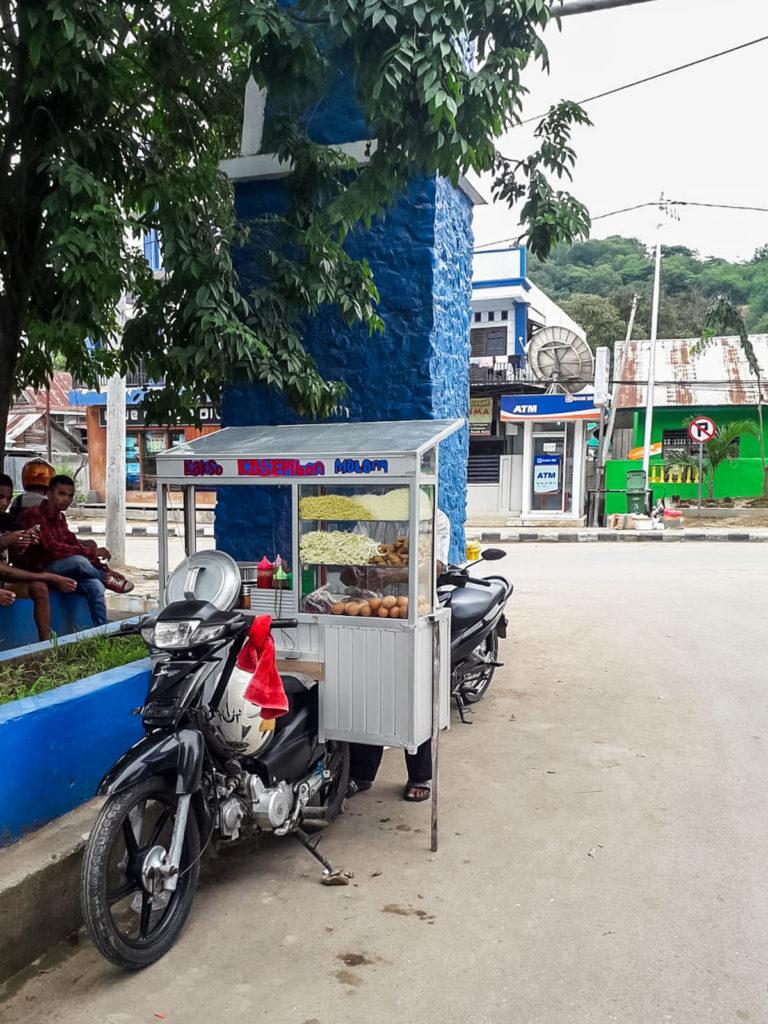 Local Indonesian vs Occidental food choices
In my modest opinion, a trip to a different place should include tasting the traditional flavors of that particular city, region or country, regardless of whether your menu costs $2 USD or $20. My recommendation here is to "follow the locals." 
I still remember one of my trips to Italy. We were in Pisa looking for a place to stifle our hunger. On a small street, we found this little restaurant full of locals, there was not even one tourist. It was the best decision we made on the trip!!!
I also understand that Asian food is not for everyone every single day, but please do not miss the culinary experiences that Indonesia has to offer: Nasi Goreng, Nasi Campur, Mie Goreng, Cap Cai, Gado Gado, Sate, Kari Ayam, Rendang, Bakso… 
When you want another type of restaurant, globalization has brought us many western food restaurants in Labuan Bajo as well.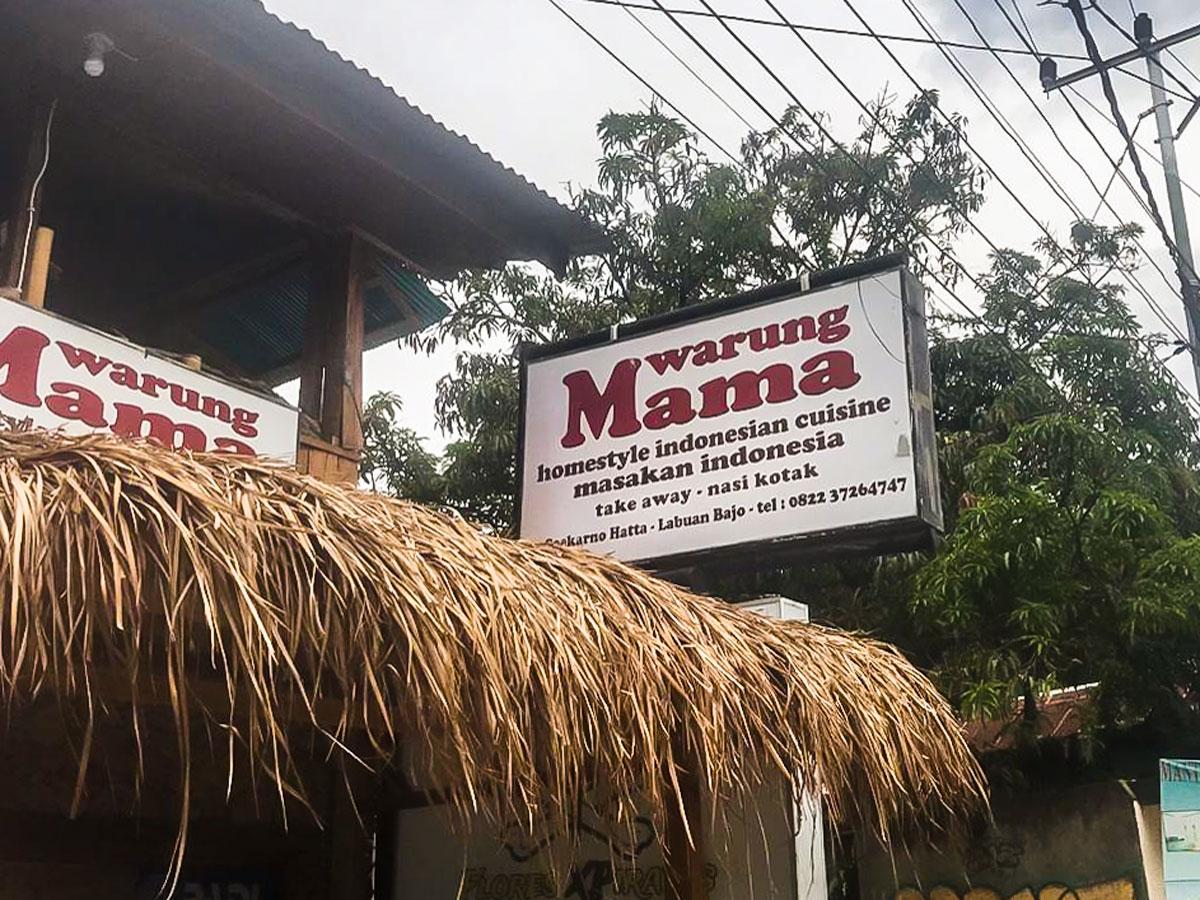 Warung Makan is where you'll find great local food.
The warungs are the food houses in Indonesia. Wherever you go, you will see and recognize them. Many of them will have the kitchen outside, with small tables where people gather at lunchtime or dinner. These types of restaurants in Labuan Bajo, we have several options; all delicious and of diverse prices. Here I leave my personal opinion on the best of the best.
Warung Mama
Located on the main street of Labuan Bajo. The choice begins with the type of rice (white, red or yellow). After this, you will decide what to have with it. Vegetarian and omnivorous options available. My favorite is the sauteed Tempe, kancung (spinach) and eggplant in hot sauce. Price of $2-4 depending on your hunger level.
Blue Corner
On the same main street a few steps away from Warung Mama. The specialties here? Mie Goreng, Nasi Goreng, and delicious fish soup (Ikan sup). Accompany your meal with some natural juice: mango, pineapple or lime. Price of $2-5.
Warung Garuda
Located on the same main street, heading away from the main town. Here you can try the Rendang, a typical Indonesian curry. Normally it will be chicken or veal.
Pasar Malam
The typical night market. Take a walk through it, see the stalls and the different options of fish and seafood that you have. Choose your dinner and ask them to cook it on the grill (ikan bakar). There are prawns, lobster, and calamari too. What you order will come with rice and vegetables as well. Delicious!! $4-6 per person depending on how much fish you order and your ability to negotiate the price.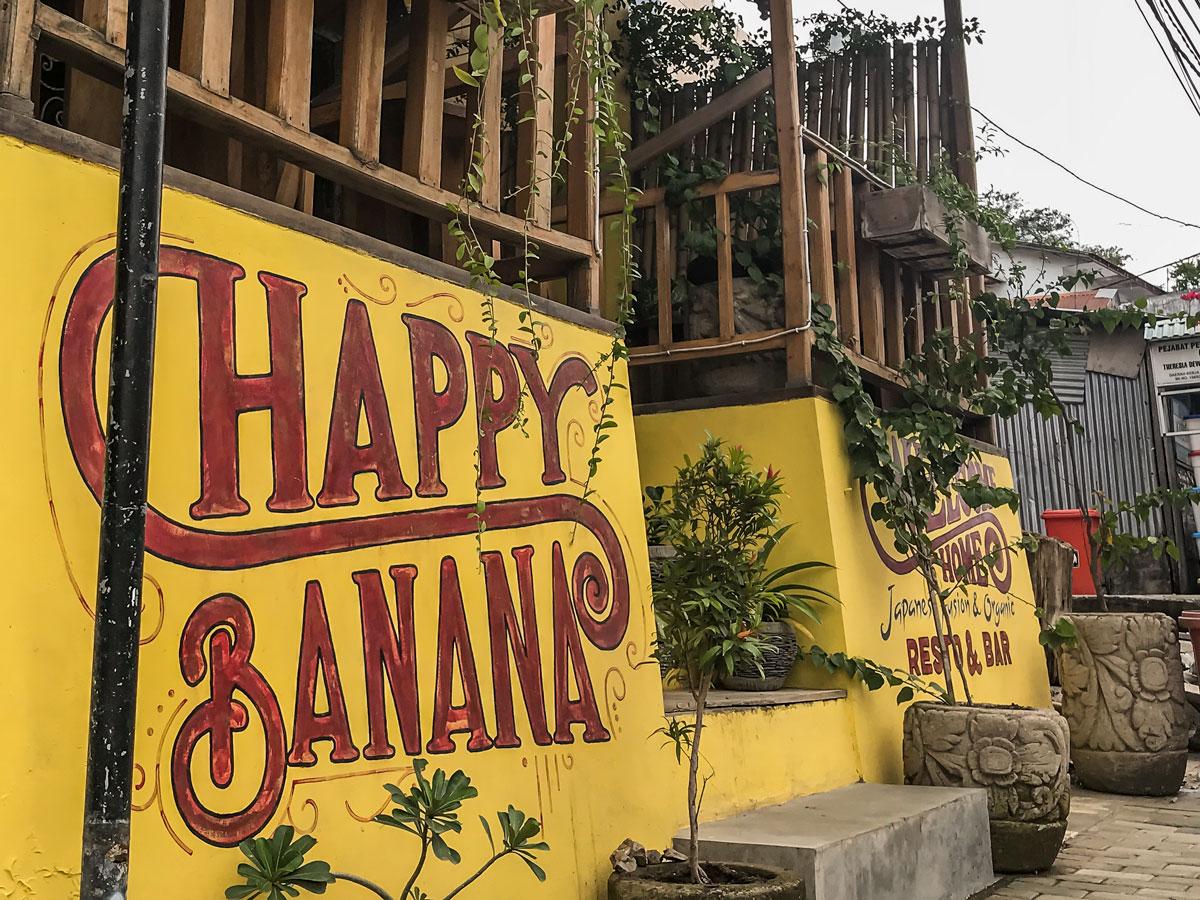 Occidental Restaurants in Labuan Bajo
Even though Labuan Bajo is a small town, we have a lot of options when it comes to Western food. Italian restaurants (which are not difficult to find around here), Mexican food or Japanese restaurants never fail. Prices are significantly more expensive than local food but for Western travellers, everything is quite reasonable. In general, you can dine for about $7-10, maybe a little more if you ask for alcoholic beverages (taxes are high). Here are my choices:
Happy Banana
My favorite spot for dinner in Labuan Bajo. Here you'll find a mix of sushi and other Asian delicacies with lots of healthy food options. The menu is very varied from salads, sandwiches, juices, and natural smoothies. (pro tip: get the chocolate mousse for dessert!!). Vegetarian, vegan and gluten-free options available.
La Cucina
This is where you'll find the best pizza in town as well as great pasta and sandwiches. There are also loads of healthy juices and drinks for all tastes. Each day they have one or two special dishes off of the menu. In high season you have to reserve your table ahead of time.
Bajo Bay
This is your high quality Indonesian cuisine restaurant. The menu is mainly fish or seafood dishes. They offer large portions and good presentation. Find it next to Pasar Malam and the harbour.
Wae Molas
This is not only a restaurant, but also one of the best chill out spots in town (also has a pool). They have a menu with many options from pizza, burgers, pasta, Indonesian cuisine, and salads. This is the perfect place to spend a hot day in Labuan Bajo. Enjoy the pool, billiards and the collection of board games available. Friday and Sunday they put movies on their big screen by the pool. Check their facebook for upcoming events.
Come and enjoy the experience of local living with modern comforts.
Regardless of what type of food you prefer or what budget you have, I recommend that you come and try it yourself. My personal options are just that. There are more restaurants, street stalls, and small food houses than those talked about here. Lose yourself in the streets, ask your hostel or boat buddies, and enjoy the food as part of your holiday in Indonesia.
We are waiting for you in Labuan Bajo, Buen Azul !!
PADI MSDT # 345513