New PADI course options in the time of COVID-19
Get private online tutoring before your course 🤓
You can 'meet' your instructor and get one-on-one chats via Zoom meetings while you go through the online theory for your course. Learn the practical application of the theory and discuss real life scenarios with a dive professional. As result, gain confidence outside of the water with the topics in your course before jumping in the water in the Komodo National Park.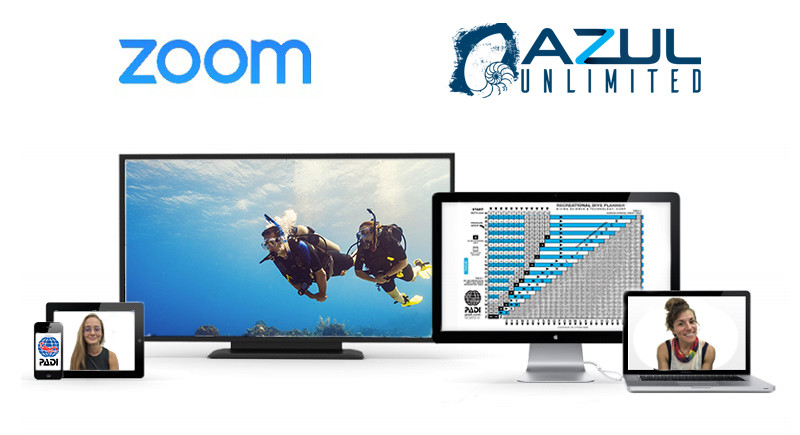 Your Rescue Diver Course in Komodo
Feel even more confident in the water
If you plan on diving regularly, becoming a PADI Rescue Diver is the best investment you can make for yourself. This course is also an essential stepping stone for those of you who are interested in becoming a dive professional. As such, you want to make sure you take it with a dive instructor with experience teaching this specific course.
The PADI Rescue Diver Course is one of the most demanding courses at the recreational diver level. It is also the most transformative, fun and gratifying to complete. Upon finishing all of your studies and dives, you will feel a level of confidence in the water you've never felt before. You will also know that you are capable of helping other divers and taking a leadership role in an emergency, if necessary. 
This is for the Serious Diver…
Before going any further, let's check the prerequisites. Each diver must be at least 12 years old and be at least a PADI Junior Adventure Diver with the Underwater Navigation Adventure Dive. It is also necessary to have a current (no more than 24 months old) Emergency First Response Primary and Secondary Care (CPR and First Aid) certification. If you do not have this certification already, not a problem! We can combine it with the Rescue Course and get you up to speed. 
The full course will be 4 days long and during that time, your PADI Instructor will help you to learn how to identify common problems that arise in recreational diving. You will be able to benefit from your Instructor's experience by learning why these situations happen and how to prevent them. The academic portion of the course will be taught via online materials, knowledge reviews and debates with your PADI Instructor. This course will develop your critical thinking skills so that you will be able to identify problems and give appropriate, creative solutions.
A unique focus with Azul Unlimited in Labuan Bajo:
The scuba diving world is changing quickly, specifically in relation to the equipment that people use for recreational diving. Now it is very common to see very different configuration for buoyancy control devices such as backplates, wings, sidemount and double tank backmount (a common configuration for technical divers). Because of this growing trend, we think it is very important for our rescue divers to be comfortable helping divers in any configuration. During your course, your instructor will use different sets of equipment, for example sidemount (tanks positioned on the sides of the body) first in confined water practice and then during various practical dives. 
A big portion of this course will focus on different levels of the panicking diver, both at the surface and under the water. You will also learn to identify and prevent tired divers or divers experiencing narcosis from becoming panicked divers. Finally, you will learn to locate a lost diver, bring an unconscious diver to the surface and transport them to the boat in order to be able to start CPR and Emergency Oxygen procedures. All of these skills will be practiced many times and with different equipment configurations so that when we arrive at our final dive of the course, you will feel prepared to deal with all circumstances. 
The Moment of Truth
The last day of the course will be full on testing of everything you will have learned in our practice sessions. This will be your final scenario and any situation covered in the previous days are fair game. During this dive, you will be prepared to show your instructor everything you have learned and that you are ready to make decisions in real world, stressful conditions.
All of this sounds pretty intense, right? That's exactly what the Rescue Course is meant to be. This course is designed for the people who really take diving seriously. They want to feel safe and confident every time they jump in the water. If that sounds like you, then this will be one of the most unforgettable courses of your diving career.
Prices:
| Course | Price in Indonesian Rupiah |
| --- | --- |
| Digital Materials + 3 dives | 6,000,000 |
| Emergency First Responder Course | 2,200,000 |
| Komodo National Park Entrance Fees | Price in IDR |
| --- | --- |
| Mon-Sat | 275,000 |
| Sun & Holidays | 350,000 |
| Komodo Dragon Tour Fees | 115,000 |
Duration: 4 Days

Dives: 2 theoretical and confined water days, 2 days of practical work in the Komodo National Park

Maximum depth during the course: 18 meters
Minimum age: 12 years old

Be certified as a PADI Junior Adventure Diver (with Underwater Navigation Adventure Dive) or equivalent from other organization.

Must be healthy and feel fit for diving

Complete this Medical form and if required, visit a doctor before going diving
Included in the Price:
Academic materials online or digital course manual copy
Logbook & certification fees
2 dive days in the Komodo National Park
Full set of dive equipment & dive computer
Breakfast, lunch & snacks
Unlimited coffee, tea & water
Diving Insurance during your course
Azul Unlimited T-shirt
Not included in the price:
Included in the Price:
Academic materials online or digital course manual copy
Logbook & certification fees
2 dive days in the Komodo National Park
Full set of dive equipment & dive computer
Breakfast, lunch & snacks
Unlimited coffee, tea & water
Diving Insurance during your course
Azul Unlimited T-shirt
Not included in the price: